There's been much discussion recently of whether the U.S. is experiencing a speculative bubble in house prices. Like previous historical bubble sightings, this one only seems to pop up in situations where the fundamentals on their own might justify significant price increases.
And right now housing bubbles seem to be popping up all over the place. Calculated Risk, writing at Angry Bear, finds one in Miami. Tyler
Cowen thinks he maybe sees one in D.C. David Altig expects to hear about one whenever Robert Shiller is on the radio. And Brad Setser is now upping the ante, looking for bubbles in France and all around the globe.
The most recent discussion of housing bubbles was spurred in part by the release of a report from the Office of Federal Housing Enterprise Oversight showing that U.S. house prices have gone up 50% over the last five years, clearly an unsustainable pace. Of course, conventional 30-year mortgage rates also dropped nearly 300 basis points over this period, and as shown most recently by Richard Rosen of
the Federal Reserve Bank of Chicago (hat tip: Calculated Risk), the two are certainly related.
But the national bubble seems to have neglected places like Jackson, TN, where house prices have failed to keep up with inflation. According to the standard theory of a bubble, speculators bid up the price only because they expect the next person to pay an even higher price. If those expectations have no foundation in reality, there's no reason why a bubble couldn't appear any old where. Yet, as the map of the OFHEO data below shows, house prices have gone up four times as fast over the last five years in places like California and Nevada compared to Ohio and Tennessee.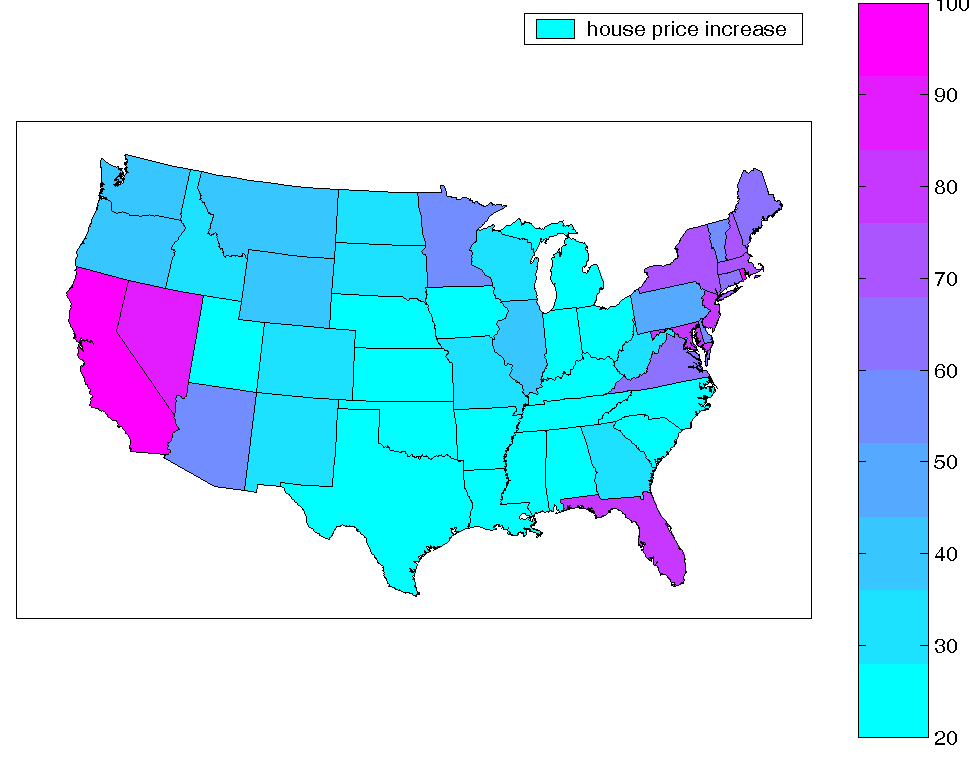 To think about how we might try to explain these differences across states in terms of the underlying fundamentals, consider a community in which total real income is growing at 2% per year while the stock of housing is only increasing 1% per year, the latter due to a combination of local government restrictions and the physical reality that you can't grow more land in the most desired locations. If renters are willing to spend a constant fraction of their income on housing, rising incomes and population will result in bidding up the rental rate on any given piece of property by 1% per year relative to inflation.
Let's look at a particular property in such a community whose rental income nets the owner $4,000 per year after expenses. If the property price is determined by the condition that the owner must earn a 3% real return, the property would have a fair market value of $200,000. One arrives at this fundamentals-based price through the following calculation. If the current price were $200,000, next year the owner could sell it for $202,000 (in real dollars). The rental income of $4,000 plus the capital gain of $2,000 provide the requisite 3% return on capital of $200,000. Next year's $202,000 price is likewise warranted by next year's $4,040 rental income and prospect of 1% capital gain on $202,000, and so on. There's no bubble because
both the price-to-rent ratio and the rent-to-income ratio remain constant over time.
Now suppose instead that population and income gains are expected to produce economic growth for the community of 3% each year rather than 2%. In this case, if the stock of available housing is still only growing at 1%, the rental rate would now grow at 2% each year. The analogous calculation to the one above implies that the same piece of property earning the same $4,000 rental would now be worth $400,000 rather than $200,000. The owner is now rationally expecting to earn $4,080 in rent next year and to be able to sell the property for $408,000. The $8,000 capital gain plus the $4,000 current rental income again justify the property value in terms of giving the owner a 3% real return.
This simple calculation helps us to understand that if a community experiences a change in its growth rate, property values can increase a great deal over a short time. For the above example, going from 2% to 3% growth would cause the property values to double overnight. It's noteworthy that over the last 5 years, the three states with the highest population growth rates as reported by the Census Bureau– Nevada, Arizona, and Florida– have also been among the locations that saw the biggest increase in home prices. Forces such as these, rather than a random distribution of irrational exuberance, seem a more natural explanation for why some communities got bubbled and others didn't.
Another argument that's sometimes raised (for example, by Kash at Angry Bear) is that some of the buyers of homes at current prices aren't going to be able to repay their loans. One could ask the obvious question here, why would banks be making
unsound loans, to which there is a subtle possible answer. It has long been understood that federal deposit insurance makes the government part underwriter of some loans, because if there is a real estate crash and the bank goes broke, the government rather than the bank's owners end up picking up the tab. The result is that a lending institution can end up making loans that are riskier than it would undertake if all the capital at risk were its own.
If this moral hazard is understood to be the ultimate factor driving the housing bubble, however, the alleged bubble becomes something that the regulatory agencies can and should be addressing quite directly by making sure that lending institutions hold sufficient equity, so that it's their capital, not the taxpayers', that is at risk, and also making sure that there is accurate public disclosure of all risks.
Economist's View has some further policy suggestions along these lines.
If you believe that there is a housing bubble– and more to the point, even if you don't–such measures make a lot more sense than trying to drive interest rates high enough to prick the bubble, as suggested recently by John Makin of the American Enterprise Institute (hat tip: Qando). We tried that little gambit
in 1929, and things didn't turn out so hot that time around.