Talk about where oil prices are headed is cheap, so at least we have plenty of that. But how
seriously does the market take the various possibilities that are being bandied about by the
pundits?
No matter what you think is about to happen to oil prices, there's somebody out there who
agrees with you.
John
Murphy sees a 70-80% chance oil will go to $70 a barrel
(hat tip: Land of Black
Gold).
That's much too tame a forecast for Matthew
Simmons, who thinks oil could be at $100 within six months. On the other hand, Stephen Ayer at
Disinterested Party wants to put his money on $40 a barrel. And Tim Worstall
declares flatly that the oil market is in a bubble.
I earlier talked
about how you could use an oil futures contract to get rich if you think you have a good
idea where oil prices are headed, and here I'd like to describe a different way to make money if
you think there's some chance that a particular one of these pundits has it right. You can
purchase a contract on the New York
Mercantile Exchange which
gives you the right to buy a futures contract for 1,000 barrels of oil, for delivery in June
2006, at a price of $80 a barrel. Such a contract is known as an $80 call option. Unlike a
regular futures contract, in which you have to buy the oil for $80, with the call option, you
only have to buy the oil if you decide later that you really want to. Today's closing price for
buying this $80 June 2006 call option was $2.41 a barrel. If oil doesn't go above $80 within
the next 12 months, and you don't try to sell the option to somebody else in the mean time, the
option to buy oil for $80 next year will turn out to be worthless, and you've just thrown away
$2,410. But if Matthew Simmons is right and oil goes to $100 a barrel, by buying oil next June
for $80 (as you've entitled yourself through the option) and selling it for $100 (where Simmons
says it will be), you've made $17,590 profit on your initial investment of $2,410.
If there's better than a 14% chance that Simmons is right, on average you'll come out ahead
making this kind of deal (0.14 x $17,590 = $2,463 > $2,410). On the other hand, the person on
the other end of the deal, who sold you the option, probably thinks the chance is well under
14%.
This is a rather simplistic way of thinking about the probabilities, because oil might not
get all the way to $100, but still could make it up to $90, in which case you'd still make
plenty of profit if you had purchased that option. For this reason, you might well want to buy
that $80 June 2006 option even if you thought there was much less than a 14% chance of oil going
over $100. To do the calculation correctly, you'd need to spell out a complete probability
distribution, and see how you'd fare with the option for each possible outcome. One common
model that many traders use is to suppose that the change in the natural logarithm of oil prices
over any length of time t is normally distributed with mean m times t and variance s2
times t. If for simplicity you also figured that you wouldn't plan on exercising the option
until a year from now, then a formula developed by Fischer Black and Myron Scholes can be used
to calculate just how much you should be willing to pay for the option. A convenient program to
do those calculations can be run on-line. You
input the current price of the June 2006 futures contract
($62.04 a barrel on today's close), the interest rate for the calculation, and the standard
deviation s that characterizes how you view the probability distribution, and it will calculate
for you how much it would make sense for someone with your beliefs to pay for that $80 call
option; (it turns out that from the Black-Scholes calculations, it's only the standard deviation
s, not the mean m, that determines the value of the option). Alternatively, you can figure
out, given that somebody's willing to sell you the option for $2.41, what value of s is being
assumed by the person offering to sell you the option at the price of $2.41. For the $80 June
2006 call option, the implied value for s is about 33%. This number is referred to as the
"implied volatility" of the option.
Or, if you're thinking more along the lines of Stephen Ayer or Tim Worstall, you might be
interested in an option such as the $50 put. Here you'd pay somebody $2.39 per barrel today,
and they're committed to buy oil from you at $50 a barrel next year, if you choose to hold them
to it. If Simmons is right, of course you're not going to want to sell oil next year at
anything like $50, and that $2.39 you spent will have been wasted. But if Ayer or Worstall are
right, you'll make a dandy profit. Again the value of s implied by the $2.39 valuation of that
$50 June 2006 put option turns out to be s = 33%. You'd come up with a pretty similar value for
s looking at most of the call or put options available for trade.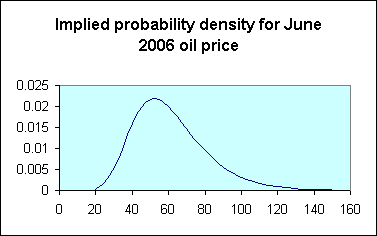 As you get into options that would only be exercised in a very dramatic turn in the market,
such as the $100 call or $30 put options, it turns out that the seller of that option would ask
for a price that is a little higher than would be expected for a distribution with standard
deviation of s = 0.33, and corresponds instead to a value of s more like 0.36. This is
something you very often find for these calculations, and is referred to as the "volatility
smile." The volatility smile is used to describe the phenomenon that, as you look at options
whose strike price is farther and farther away from June 2006 futures price itself, the implied
volatility gets a little higher. This smile shape may reflect the fact that traders view oil
price changes as coming from a distribution with fatter tails than the lognormal distribution from
which the Black-Scholes formula is derived. I've used that s = 0.36 value along with the
futures price to set the mean m to illustrate this implied probability density for the June 2006
price of oil in the above figure, and tabulated the probability that this implies that the June
2006 oil price would be below any particular value P in the table below. The market is putting
something like a 7% chance that oil will go above Simmons's $100, and a 15% chance it could go
below Ayer's $40.
Implied probability distribution for June 2006 oil price
Price (P)
($ per barrel)
Probability that
price will be
below P
30
0.03
40
0.15
50
0.34
60
0.54
70
0.70
80
0.81
90
0.89
100
0.93

I should perhaps also relate these calculations to what some of you may have seen in a story
first run by Bloomberg, which has
been picked up by Green
Car Congress,
Peak
Oil Optimist and today by a large number of news services. The Bloomberg story might have
seemed to suggest that recent trading in these oil options signifies a widespread belief among
traders that oil prices are going to rise dramatically. The primary evidence that the Bloomberg
article pointed to was the volume, which measures the number of people who bought an $80
December 2005 option. But what the article leaves out is that this is in fact the same as the
number of people who sold this option, and those folks are betting oil prices
aren't going up that far. What's relevant is not the volume but rather the price of
the transactions, and the price to which buyers and sellers agreed implies that, more likely
than not, oil is not going to reach $80 any time soon.
Could Matt Simmons still turn out to be right? He sure could. And if you think there's,
say, a 20% chance that he will be, you should get on the phone right away to go after one of
those call options. You'll find a rich capitalist on the other end, who aspires to become an
even richer capitalist, who will be more than happy to take the other side of that bet.