Here's one way you can figure out if you've pulled the car far enough into your garage– if
you run into the wall, you went too far. Hopefully the Fed has another plan for how to decide
when to stop raising the fed funds rate.
Each week David Altig's href="http://macroblog.typepad.com/macroblog/2005/07/fed_funds_proba.html">Macroblog
provides the very useful service of reporting the probabilities of future changes in the fed
funds target that are href="http://www.econbrowser.com/archives/2005/06/predicting_the.html">implied by the prices
that traders are willing to pay for fed funds options. These reveal that traders think
there's nearly a 70% chance that the Fed will raise interest rates at least another 50 basis
points over the next two FOMC meetings. href="http://www.williampolley.com/blog/archives/2005/07/index.html#000354">William Polley,
Kudlow's Money Politics, and
Angry
Bear have some useful comments on whether the Fed may be going too far with such moves.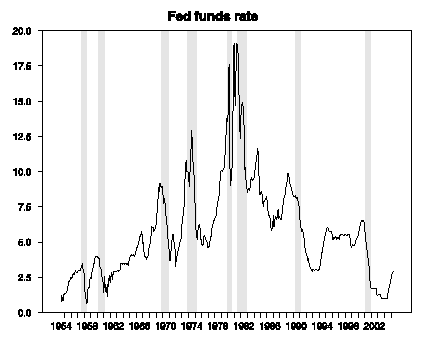 align="right" vspace="4" hspace="10">
Even without another 50 basis points, the Fed has already driven the fed funds rate up by 225
basis points over the last year. As the graph at the right shows, it is pretty unusual
historically for the Fed to move the rate up that fast and that quickly. Apart from the
volatile 1979-82 period, when we saw interest rates rapidly yanked up and down as the economy
lurched between two recessions, I count 6 other episodes over the last half century in which
there was a 200 basis point rise in the funds rate within a single year. The first three of
these (1959, 1968, and 1973) only ended when we found ourselves in a recession, indicated by
shaded regions on the graph.
In the three more recent episodes (1984, 1989, and 1994), the Fed pulled back before a
recession actually began. In each of these, that meant stopping after about a 300 basis point
hike. If the Fed did the same thing this time, they'd maybe call it quits when the funds rate
hits 4%. However, as I href="http://www.econbrowser.com/archives/2005/06/worries_about_t.html">commented earlier,
if we see longer term yields drop back down, that could put us in a position of an inverted
yield curve, which historically has been a fairly ominous development.
Looking at the graph, it appears that the Fed may be trying to replicate the "soft landing"
of 1995, hoping to retrace the U-shape of that episode with the same pattern now, albeit at a
lower level of interest rates. If one thinks of the long-run downward trend in nominal interest
rates since 1982 as being dominated by a reduction in the long-run inflation rate, replicating
the U-shape of 1991-1995 during 2001-2005, but at a lower level, might seem like an ideal
strategy.
There's just one problem with that interpretation: the trough in interest rates in 2003 came
not from a continuing reduction in inflation but rather from an excessive creation of liquidity
on the part of the Fed. The inflation rate went up between 2001 and 2002, even as the Fed drove
interest rates much lower, and inflation has continued to creep up since.
And that explains why we're now on the upswing of another U. It would have been better in my
opinion not to have let interest rates go so low in 2002-2003, in which case it would not have
been necessary to raise them so quickly now. We're left in a situation now where there could be
problems, either from inflation or recession, no matter what the Fed does from here. But
certainly if the Fed continues long enough sending the funds rate on its current upward journey,
the landing is not likely to be all that soft.
By the way, our son is just learning how to drive. My advice to him is to drive the car into
the garage very, very slowly.