Quite a few commentators have suggested that the labor force participation rate is a much
better indicator of the health of the U.S. labor market than is the unemployment rate. I feel
that quite a few commentators have this wrong.
When

Brad DeLong,

Paul Krugman,

Angry Bear,

Economist's View,

William Polley,

VodkaPundit,

The Big Picture,

Lifelike Pundits, and

Reading the World
(among others) all tell me to look at

this policy brief by Katharine Bradbury, then, ok, I'll have a look at it.
The issue people are talking about is the divergent impressions one would draw about the
current U.S. labor market depending on which statistic you look at. The unemployment rate,
which reflects the number of people who say they're looking for work but are unable to find it,
suggests that the U.S. economy is currently in significantly better shape than it's typically
been over the last 30 years. The labor force participation rate, which is the number of people
who are either working or looking for work as a fraction of the population, suggests that far
fewer people are working, relative to the size of the potential labor force, than has typically
been the case over the last 30 years. The difference between the two measures has to do with
people who aren't working and who further described themselves to the BLS as not actively
looking for a job. Large numbers of such people explain both a low unemployment rate and a low
labor force participation rate.
What caught everybody's attention in
Bradbury's paper were the following conclusions:
Measured relative to the business cycle peak in March 2001, labor force participation rates
almost four years later have not recovered as much as usual, and the discrepancies are large….
Depending on the scenario, the current labor force shortfall ranges from 1.6 million to 5.1
million men and women. With 7.9 million people currently unemployed, the addition of these
hypothetical participants would raise the unemployment rate by 1 to 3-plus percentage points.
Current low rates of labor market participation thus potentially represent considerable slack in
the U.S. labor market.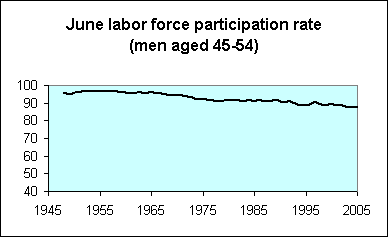 What caught my attention in this paper is something that also struck William Polley
and Tim
Duy, though it does not seem to have been mentioned by any of the dozens of others who've
reported on this analysis. This is a feature that's extremely glaring if you look, for example,
at the labor force participation rate for men aged 45-54. This statistic has exhibited a very
reliable downward trend over the last half century, falling from 96% in 1948 to 88% today. It
would be perfectly outlandish for anybody to look at that trend and deduce from it that the U.S.
labor market has been steadily worsening over the last 50 years. In fact, the exact opposite
would be the correct interpretation– it is precisely because of rising American affluence over
these decades that those individuals in this demographic group who are least suited for working
are no longer forced to do so. As a specific example of how and why that has occurred, a study
by David Autor and Mark
Duggan noted that between 1984 and 2001, the share of non-elderly Americans receiving Social
Security Disability Insurance income rose by 60%, which these researchers concluded led to a
doubling in the labor force exit propensity of displaced high school dropouts.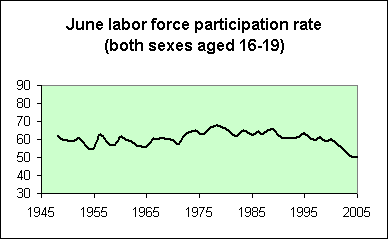 Next consider another demographic group, those aged 16-19, whose labor force participation
rate displays very different properties. Whereas the trend is the striking feature for mature
men's participation rate, the cycle is the dominant attribute for teens. In each recession one
sees the teen participation rate fall and rise back up as the economy recovers. These cyclical
declines surely do indicate a weak labor market for potential job-seekers in this group. On the
other hand, there just as clearly are some longer run trends apparent in teenage labor force
participation as well, with this statistic gradually climbing up until 1978 and gradually
falling since. The primary explanation for the fall since 1978 appears to be
increased high school and college enrollment rates and attention to school work. Again, it
would be a rather surprising view of the world to suggest that paying more attention to school
is a bad thing for teenagers to do.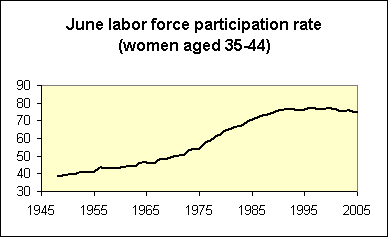 As yet a third illustration of the variety and subtlety in the trends in labor force
participation among different groups, consider the numbers for women aged 35-44. This statistic
rose steadily through the 1960's, accelerated sharply in the mid-1970's, and reached its peak
value in 1996. Surely the increases in the 1960's and 1970's represented the results of
profound changes in social values and preferences over that period. Given that the plateau was
reached prior to the economic boom of the 1990's, I'm certainly inclined to
attribute the failure of this statistic to rise above 80% also to social factors. Not all women
in this age group want to work, and the number who do is subject to change over time as people's
attitudes change.
It seems very hard to quarrel with the statement that any given month's value for the labor
force participation represents the confluence of different factors, some resulting from trends
that are in all probability quite benign, and some representing cyclical economic swings.
Whenever somebody looks at such a statistic and claims to have inferred what it is saying about
purely cyclical forces, they must have used some method for distinguishing between these two
kinds of forces.
In my opinion, no such reliable method exists. One idea you might try would be to fit a
linear time trend to the data, calling any deviation from that trend line the "cyclical" factor.
That might not work too badly for the mature men's participation figures. But it would seem a
gross distortion of what's going on for either of the other two series I've plotted, giving you
a radically different answer depending on where you supposed the trend began and ended. There's
no good reason to assume that the factors that are contributing to the trend are in fact
evolving in a linear, purely deterministic way that simply began at some arbitrary date.
Any satisfactory statistical treatment of the question would regard this as a
signal-extraction problem, where one would try to decompose the change in any given month's
labor participation figure into "trend" and "cycle." There are certainly time-series methods
that have been proposed for doing that sort of thing. But they rely in a very fundamental way
on knowing the statistical structure of what constitutes a trend and what constitutes a cycle.
I just don't see what we could claim to base such assumptions on in this context.
The method that Bradbury used in order to arrive at her lowest estimate, 1.6 million, of the
number of missing jobs, was to look at the change between the current participation rate for a
given demographic group and its value when the recession started in March 2001, and compare
this change with the corresponding 4-year change following each of the recessions in 1960, 1969,
1973, 1981, and 1990. This essentially amounts to assuming that the slope of a linear trend fit
from 1960-1994 could be extrapolated to 2001-2005 to identify the magnitude that we should
normally be expecting for that figure. In the case of mature men, that's maybe not such a bad
assumption, and in fact Bradbury finds that for men aged 45-54, the participation rate in 2005
is actually higher than one might have predicted based on the previous 5 downturns. On the
other hand, for women aged 35-44, this amounts to assuming that the increase in women's labor
force participation rates between 1960 and 1994 should have continued to climb upward, and,
since it has not, Bradbury finds 1.1 million "missing" jobs in this group alone.
In calling attention to this fact, I do not mean to be criticizing Bradbury's scholarship.
My point is not that there's a right way and a wrong way to control for trends, but rather that
there are some fundamental problems with any way you choose to do it, and any conclusions you
draw from these exercises need to be very carefully qualified. Indeed, if you read Bradbury's
paper, you'll see that a great deal of her paper is devoted to discussion of these very profound
challenges in distinguishing trend and cycle. My concern is more with the way that the pundits
have summarized her paper without calling attention to this very great uncertainty about drawing
strong conclusions from such numbers. Tim Duy
did a nice job in passing along the qualifications and doubts that Bradbury herself acknowledged
about such analysis, but many of the other analysts have been bringing up her policy brief as if
it definitively resolved all questions. For example, the Big Picture
summarizes the current status of the debate as follows:
Anyone who gets on their hind legs to declare how wonderful the economy is based
upon how low unemployment rates are outs themselves as a clueless
known-nothing.
On behalf of CKNAWWW (Clueless Know-Nothing Analysts of the World Wide Web), I'd
respectfully like to invite Big Picture to rethink that position. Or maybe even consider the
benefits of becoming a member in our elite guild.