I think we should, and here's why.
I love the name of Steve Conover's blog, The
Skeptical Optimist. This week Conover asks, href="http://www.optimist123.com/optimist/2005/07/whats_so_scary_.html">What's so scary about
debt held by foreigners? He answers that we shouldn't be worried, and reasons as
follows:
I'm sorry, I don't buy the scary, emotional rhetoric. Why? Because I am one of an apparent
minority who is not just happy– but delighted– that foreign investors with dollars to spare
think the USA is the one of the safest, most stable places in the world to invest their
money.

Ten (or so) years ago, Milton Friedman explained it this way:
"It is a mystery to me why… it is regarded as a sign of Japanese strength and American
weakness that the Japanese find it more attractive to invest in the U.S. than Japan. Surely it
is precisely the reverse – a sign of U.S. strength and Japanese weakness."
I like that reasoning. But to explain why I'm nonetheless still quite concerned, let me call
your attention to some facts from the U.S. national income accounts. If we produce more as a
nation than consumers, firms, and the government spend, the residual will be used to lend to
other countries or acquire foreign assets. If we produce less, we must borrow or sell off
assets. We can break down that gap between our production and spending by further
distinguishing between purchases of structures and equipment (investment spending) and other
categories of spending. If we leave depreciation out of the measure of both production and
investment, we have the accounting identity that U.S. net saving minus U.S. net investment
equals net lending from the U.S. to foreign countries. Net foreign lending is positive if our
saving is greater than our investment, and negative (meaning we're borrowing from other
countries) when saving is less than investment.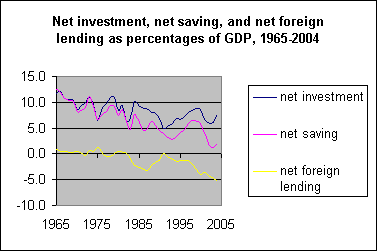 The graph at the right plots these three quantities, net saving, net investment, and net
foreign lending as a percentage of GDP for the U.S. Up until the mid 1980′s, net saving and net
investment tended to be pretty close to each other, and there was little net lending or
borrowing from foreigners. Since then, net saving has drifted significantly down as a
percentage of GDP, and has averaged less than 2% of GDP for the last three years. The
difference between what we produce and what we spend has shown up as an increasing volume of net
foreign borrowing.
I agree very strongly with Conover that net foreign borrowing is not in and of itself a bad
thing. In my mind, it really all depends on why we're doing the borrowing. If businesses were
using the borrowed funds to do additional investing in plant and equipment, then even though
we'd be owing more to foreigners, we'd also be creating the additional productive resources with
which to pay them back and provide for our own future as well. Or if there was some good reason
why we temporarily have a great need to borrow and would be in a better position to pay for what
we now want at some point in the future, it might be a good idea to sell off some of our assets
or go more deeply into debt to those in other countries.
But I see neither of these as a good description of our current situation. Investment has
actually declined as a fraction of GDP over this period, and I don't see why it's going to be
that much easier for either the government or private households to pay off that debt in the
future. Instead to me it has more the appearance of a consumption binge.
And the problem has to do with the magnitude of that binge. When net foreign lending is
negative, we either have to sell off U.S. assets or go deeper into debt. And more than 5% of
U.S. GDP in one year represents a huge quantity of assets. href="http://www.roubiniglobal.com/setser/archives/2005/06/selling_off_lit.html"> Brad
Setser and Peter
Schiff have noted that if, as some have predicted, the U.S. current account deficit were to
rise to $800 billion, we could pay for one year's worth of net imports by selling off half the
companies that make up the Dow Jones Industrial Average.
I should also note that I agree with Conover that the problem is not the fact that we're
borrowing from foreigners per se. If we were not able to borrow from them and still had such a
low saving rate, we'd have practically no net investment in the U.S., which would be an even
bigger disaster. So I would say that the problem is not the large amount of foreign borrowing, it
is the low U.S. saving rate.
And what exactly is the problem with that? It means we're basically further impoverishing
the Americans of the future with each years' asset sell-offs or debt accumulation. If you don't
find that scary, at least it seems to me a little sad.