Updated tax data are in and the spinners will spin. But the numbers can speak for
themselves.
The Mid-Session Budget
Review has been released, showing that federal tax receipts for 2005 are coming in at a rate
that may total nearly $100 billion more than was estimated last February. Let me say at the
outset that, as someone who has had real concerns about the deficit, this strikes me as
unambiguously good news.
Nevertheless, it's clearly not quite as good news as some have portrayed. href="http://economistsview.typepad.com/economistsview/2005/07/some_simple_fis.html">Mark
Thoma called my attention to this story from the href="http://washingtontimes.com/commentary/20050706-094907-7496r.htm">Washington Times:
This is especially welcome news to supply-side tax-cutters who argued all along that lower tax
rates spur stronger economic growth, which, in turn, creates more jobs that increases tax
revenues. That is happening now.
It's embarrassing news for President Bush's diehard Democratic critics, who predicted his tax
cuts would worsen the budget deficits and drive the government deeper into
debt.
The proposition that by cutting the tax rate we might actually increase tax revenue is a
theoretical possibility, although it's the sort of surprising suggestion for which one would
want to see rather persuasive evidence before taking too seriously, and such evidence certainly
seems hard to find in the historical record.
The closest thing I've seen to a numerical analysis that might suggest evidence of its operation
in the current episode is that by href="http://quote.bloomberg.com/apps/news?pid=10000039&refer=columnist_hassett&sid=ai2iE.j8vxno
#">Kevin Hassett, though, in fairness to Kevin, he really seemed to be arguing that the tax
cuts hadn't reduced revenue that much rather than that they'd actually led to an increase in
revenue. Even so, he was only able to support that conclusion by comparing the current forecast
for 2006 with a forecast for that year first made in 1999. href="http://angrybear.blogspot.com/2005/07/more-supply-side-spin-from-kevin.html"> Angry
Bear has some compelling concerns about Kevin choosing the base year to be 1999 rather than
2001, as well as some of the other details about how the 1999 projection relates to events as
they actually unfolded.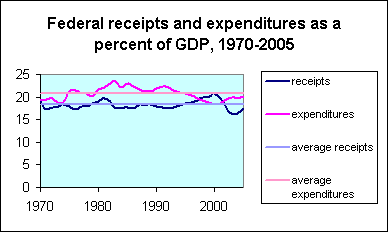 In any case, this seems to me to be a case where the data speak pretty clearly without the
need for much reinterpretation. The graph at the right displays federal government receipts and
expenditures, each as a percentage of GDP, for the last 35 years. Tax revenues fell from 20.9%
of GDP in 2000 to what is now projected to be 17.4% of GDP for 2005. Federal expenditures rose
from 18.4% to 20.1% over the same period. With tax revenues way down and expenditures way up,
voila, a big surplus turned into a much bigger deficit. In terms of this simple arithmetic, 2/3
of the swing from surplus to deficit would be attributed to lower tax revenues and 1/3 to higher
spending.
It's hard to see how one can argue that the tax cuts set in motion some economic changes that
would be starting to show up only now or even later. The logical mechanism for such a delay
would presumably come through investment spending. But as href="http://angrybear.blogspot.com/2005/06/tale-of-two-tax-cuts.html">Angry Bear again
noted, national saving and investment as fractions of GDP are both down since 2000, so the data
so far would seem to work against such an effect. Rather than the first fruits of an incipient
big return on the tax cuts, it seems much more natural to me to attribute the recent upswing in
tax receipts to href="http://economistsview.typepad.com/economistsview/2005/07/some_simple_fis.html">the natural
consequence of a cyclical recovery and some
revenue mechanisms that could prove to be temporary.
Nonetheless, the above graph also suggests that using 2000 as the base year for fiscal
comparisons may be a bit misleading, since tax revenues for that year were at their highest
level and expenditures were at their lowest level, as percentages of GDP, of the previous
quarter century. An alternative baseline is to look at what the average values for these two
magnitudes had been over 1970-2000. By this metric, despite the rise since 2000 in government
expenditures as a fraction of GDP, spending is still below the average historical value of 20.9%
observed during 1970-2000. On the other hand, tax revenues in 2003-2004 represented a lower
percentage of GDP than at any point of the preceding quarter century. With the mid-session
revisions, the gap between expenditures and receipts currently stands at 2.7% of GDP, almost
identical to the historical average gap of 2.6%, albeit with both magnitudes shifted down a
little less than 1% relative to the historical averages.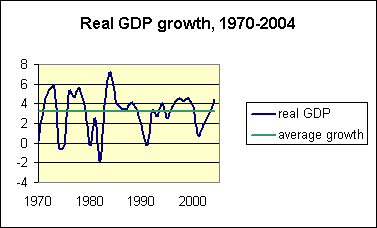 Of course, some might reason that the device I've used here to scale the data– dividing by
GDP– assumes away the whole issue, in that the argument could be that tax revenues would fall
as a fraction of GDP, but the level of GDP grow so quickly that total revenues increase.
However, by this reasoning, the other part of the program should be a decrease, not an increase,
in government spending as a fraction of GDP. More to the point, the graph at the left shows that
GDP growth for each year during 2001-2003 was well below the historical average. It is true
that real GDP growth for 2004 of 4.4% was 1.2% faster than the historical average. But as is
also apparent from the graph, any growth slower than this in the recovery phase from an economic
recession would have been somewhat unusual.
It seems to me that any way you want to slice these numbers, unusually low tax revenues have
to be the biggest part of any account of where these unusually large budget deficits came from.
There may be good reasons for wanting high government spending, and there may be good reasons
for wanting low taxes, but the reality is that we have to choose between the two. It would
certainly be nice if cutting tax rates caused tax revenues to go up. But wishing doesn't make
it so.