Yet another key leading indicator turns gloomy. How much can the stock market and the Fed shrug off?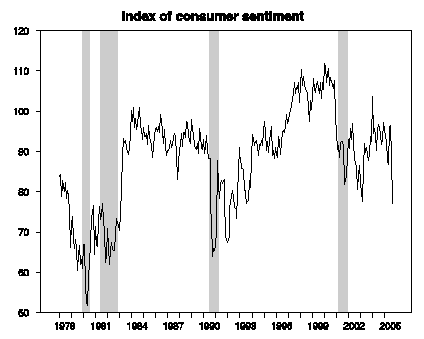 The index of consumer sentiment produced by the University of Michigan is another closely watched barometer of where the economy might be headed next. The graph at the right (data from St. Louis FRED) displays the historical tendency of this indicator to plummet prior to or in the early stages of an economic recession (indicated by shaded areas on the graph). It's not good news that it fell 14% in the most recent month, bigger than the 11% drop in September 2001, and bringing the index to its lowest value in 13 years. The less widely followed Investors Business Daily and TechnoMetrica Market Intelligence index of economic optimism likewise experienced a 19% drop in September.
Such a response to Katrina has been the primary concern of many economists. One analyst dismissed the September numbers on the grounds that, "the index was likely weighed down heavily by the emotional response to the devastating images that resulted from Hurricane Katrina," to which Barry Ritholtz responded that summarizing the emotional response of consumers to events like Katrina is exactly what the index is designed to do.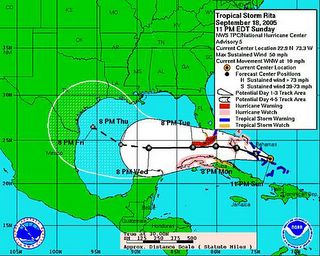 Possibly what such positive spin envisions is that, as the recovery from Katrina and temporary nature of the disruption become clear, everyone will brighten up. But then again, here comes Rita, threatening to blast its way through the 44% of Gulf of Mexico crude oil production that is not still shut-in from Katrina, and toward the vital ports and refineries around Houston.
Anybody worried about that? Well, trading on NYMEX today pushed October oil up 7% and October natural gas and gasoline both up 14%. The latter figure amounts to 26 cents a gallon– not bad for a day's work. Of the 40 cents a gallon decrease in retail gasoline prices that I promised here and here, we've seen 15 cents so far, but today's two bits could take a good bite out of what you've got left. Ah well, the NYMEX giveth, and the NYMEX taketh away.
Maybe those futures traders are just having an emotional response to this whole hurricane thing.
Technorati Tags: recession,
gasoline prices,
gas prices, oil prices,