Amazingly, gasoline futures on the New York Mercantile Exchange today ended back where they were before Hurricane Katrina struck with all its fury. Retail prices will likely follow that lead. But what about the Fed?
The October gasoline futures contract closed today at $1.87 a gallon. This is more than a dollar a gallon below the lofty height to which the September futures price had ascended in the hectic August 31 trading. As the chart below shows, this puts the October futures price essentially back where it was before Katrina threatened New Orleans.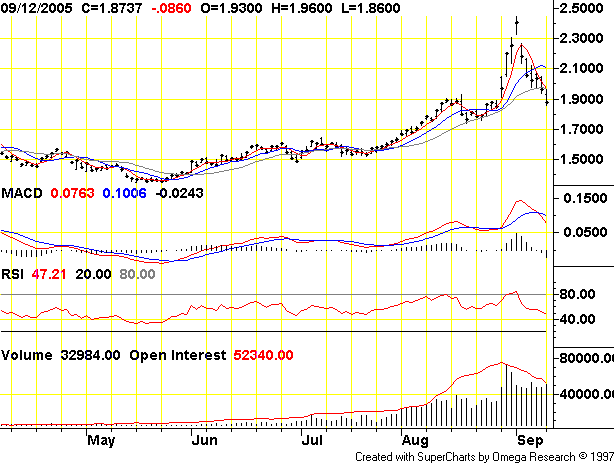 Remember that this contract corresponds to a bulk price, so you'd add about 70 cents a gallon in taxes and the wholesale and retail markups to get a number comparable to the one you pay at the pump. The chart below plots the average national retail price for the last month. This has come down significantly from the September 1 highs, but still displays a substantial kick from Katrina. Today's NYMEX results mean that the retail price could easily drop another 30 cents a gallon in the next few weeks.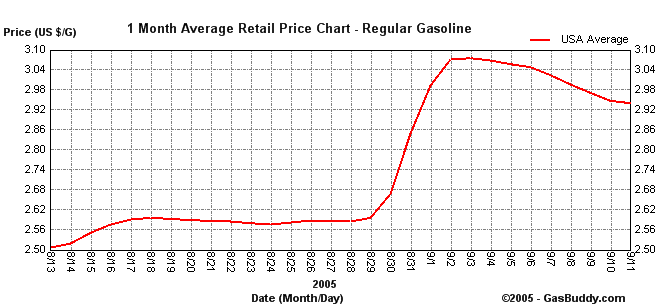 It's been a roller coaster ride for Fed watchers as well. The chart below plots the latest data from Macroblog for the probability (background here) that the Federal Reserve will set the target for the fed funds rate at one of the indicated values at its November 1 meeting. Prior to Katrina, the market had been very confident that we'd see the target bumped from its present 3.5% up to 3.75% on September 20 and 4.0% on November 1. The damage from Katrina to energy supplies caused many analysts to believe that a recession had become much more likely, which prospect would make the Fed substantially less likely to keep moving interest rates higher.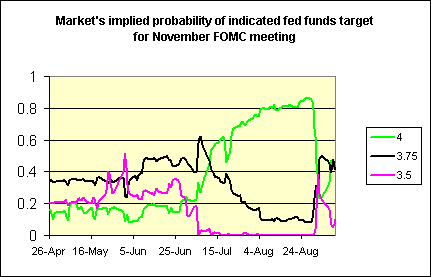 As news of the past week has revealed the economic damage from Katrina to be less severe than originally feared, the prospect that the Fed would continue with its rate-hiking ways correspondingly went back up. On September 1, a 3.5% fed funds target for November was the single most likely outcome. Today, 4.0% is the single most likely outcome.
It looks like you'll be paying less for gasoline and more for your adjustable rate mortgage in the near future. And these two developments seem to be related.
Technorati Tags: Federal Reserve, Katrina,
gasoline prices, gas prices