Why aren't the big oil companies reinvesting their huge profits?
Consider the following data, taken from the Exxon-Mobil 2004 annual report. The company earned $26.1 billion in 2004 and reported capital and exploration expenditures of $14.9 billion. Looking casually at the two numbers, this might sound exactly like what we'd expect to find, namely, a company plowing a good deal of its profits back into the investments necessary to help increase future global oil and gasoline production. But when you look at the numbers more closely, it appears to be a surprisingly low level of investment spending.
2004 Exxon sources of cash flow (billions of dollars)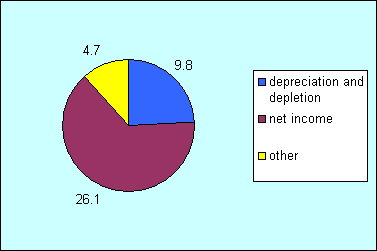 For one thing, oil companies face a significant degree of depletion of existing oil fields and depreciation on previous capital investments, meaning huge investments are required just to maintain the status quo. Standard accounting conventions recognize this by subtracting depreciation and depletion as an operating expense, with the presumption being that the investment that would be necessary in order to maintain current production would be counted as a regular business expense rather than something one needs to pay for out of profits. In addition, Exxon sold off $2.8 billion in investments in 2004, which we would need to subtract if we wanted to calculate the net productive assets that the company added during 2004. Exxon also charged off $1.1 billion in dry-hole exploration as a cost before calculating profits, meaning that these funds didn't come out of the $26.1 billion profit, either. Finally, the notes to the annual report indicate that Exxon followed the accounting convention of including in capital expenditures a proportion of capital spending by interests in which Exxon holds equity, which again require no funds directly out of profits.
2004 Exxon uses of cash flow (billions of dollars)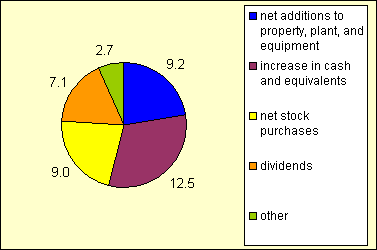 One way to keep track of all this is to look at the "Summary Statement of Cash Flows" in the annual report. We can calculate the cash Exxon had available to spend by starting with the $26.1 billion net income earned in 2004 and adding the $9.8 billion that Exxon imputed to depreciation and depletion expense, plus $4.7 billion in other items such as an increase in accounts payable (which, because the funds are net yet disbursed, means such items also add to cash in hand). These three magnitudes come to $40.6 billion, Exxon's calculation of the net cash provided by operating activities.
Exxon reported its 2004 actual cash expenditures for additions to property, plant, and equipment to be $12.0 billion, which, if we subtract the $2.8 billion sales of assets, implies $9.2 billion in net capital additions. This is actually less than the $9.8 billion depreciation and depletion figure, which one might interpret as meaning that virtually none of the tremendous 2004 profits were used to acquire net new assets. So what did Exxon do with all the rest of the money? Seven billion went to dividends, $9 billion to net stock buybacks, and an incredible $12.5 billion was just hoarded as cash.
Nor was Exxon alone in this behavior. For example, ChevronTexaco had 2004 net income of $13.3 billion, which it used to accumulate $5 billion in cash and buy back $2.1 billion of its stock.
How are companies that behave in this way going to succeed in increasing oil production? The answer is, they aren't. The graph at the right, taken from the Oil Drum, displays production over the last 3-1/2 years for the top 10 publicly traded oil companies. Half of these giants have seen their production fall over this period.
And prices and profits have continued to surge in 2005. The table below summarizes how much profits and capital spending went up in the first three quarters of this year compared to the corresponding quarters last year for three of the companies that reported big profit gains this week. Only a modest fraction of the increase in profits for these companies is showing up so far as additional investment.
Change in profits and capital expenditures between first three quarters of 2004 and first 3 quarters of 2005
Company
Δ profits
($ billions)
Δ profits
(percent)
Δ capex
($ billions)
Δ capex
(percent)
Exxon-Mobil
8.5
50.3
1.7
16.7
Royal Dutch Shell
7.0
49.9
1.4
13.8
BP
4.7
32.8
0.3
3.8
So what's the story? Maybe the oil companies are hoarding the cash in preparation for big investments just down the road. But we really could have used those investments several years ago, not several years from now. Or perhaps companies see enough danger of an oil price collapse that they are unwilling to make investments that would only pay if oil prices remain high. But if that's the explanation, it's unclear why they don't take the sure profit and hedge that's available from using futures prices. Alternatively, some might say that the only remaining plays at this point are in the control of governments, not oil companies, with the incipient decline in production by the international majors another milestone on the path to peak oil.
I must confess that I find it puzzling why it would make sense in the current situation to hoard cash and buy back shares. If anyone has a good explanation, I'd be very interested to hear.
---
Technorati Tags: oil prices, oil, oil supply, peak oil,
oil company profits