Last week's GDP statistics and this week's productivity data gave us something to cheer about. Friday's employment figures do not.
The Bureau of Labor Statistics reported Friday that U.S. employment increased by only 56,000 jobs in October, about a third of the number needed to keep up with the growing population, according to seasonally adjusted data based on the establishment survey of nonfarm payrolls. Employment actually fell in September.
Kash at Angry Bear is troubled that recent employment gains have predominantly come from construction. If Calculated Risk is correct that the housing boom is about to go bust, that dependence on construction could be a source of concern.
Macroblog notes that there can be significant month-to-month noise in these statistics, and seasonal adjustment is also quite important. Without seasonal adjustment, the establishment survey actually shows 702,000 rather than 56,000 net new jobs created in October. But because October is usually very strong (averaging 716,000 net new jobs before seasonal adjustment in each of the previous 10 Octobers), the 702,000 seasonally unadjusted job growth gets expressed as 56,000 seasonally adjusted new jobs.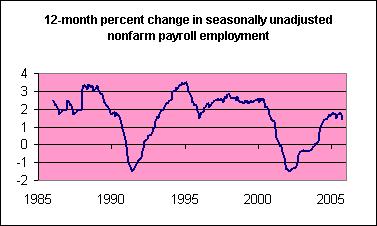 One way to smooth out the month-to-month noise and avoid the difficulties of seasonal adjustment, at the cost of missing the timing of turning points, is to look at the 12-month change in the seasonally unadjusted data rather than the monthly change in the seasonally adjusted data. This series seems to confirm that the employment growth of the current expansion has recently been sputtering. William Polley, looking at 3-month averages of the seasonally adjusted data, and
Calculated Risk, looking at the cumulative job growth of Bush's second term, reach a similar conclusion. On the other hand, measures of employment based on the slightly less reliable household survey seem to suggest that employment growth continues to be strong.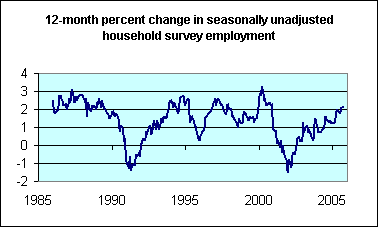 So is the economy humming along nicely or already exhibiting the first signs of a downturn? Whatever you believe, you could point to some data in support of your position. And whichever you believe, you should probably be entertaining some doubts about whether you've called this right.