Very weak GDP figures produced a slight rise in the recession probability index and warrant a more pessimistic outlook for 2006.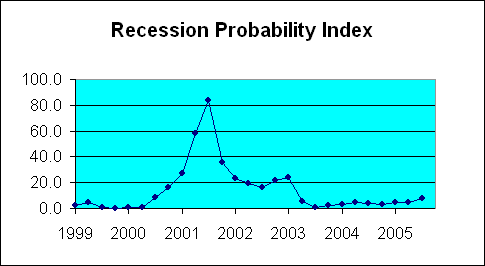 >
The Commerce Department announced today that U.S. real GDP grew at an annual rate of 1.1% in the fourth quarter of 2005, 2% slower than any quarter since 2003:Q1. This caused a slight move up in the GDP-based recession probability index to 7.4%. This index is not a forecast of where the economy will be later this year, but is a backward-looking assessment of where the economy was as of 2005:Q3, using the latest data to form that assessment. The index leaves us confident that the current economic expansion continued at least through the third quarter of 2005. Background on how this index is constructed and a review of its historical performance is available here.
The specific details of the latest GDP figures are very discouraging. The strongest growth was right where we don't want to see it– inventory accumulation contributed 1.45% positive growth to fourth-quarter GDP, meaning that real final sales actually fell. Some inventory accumulation was expected given the big negative inventory investment earlier in the year, but still, it is a bleak quarter indeed if that's all you've got going for you.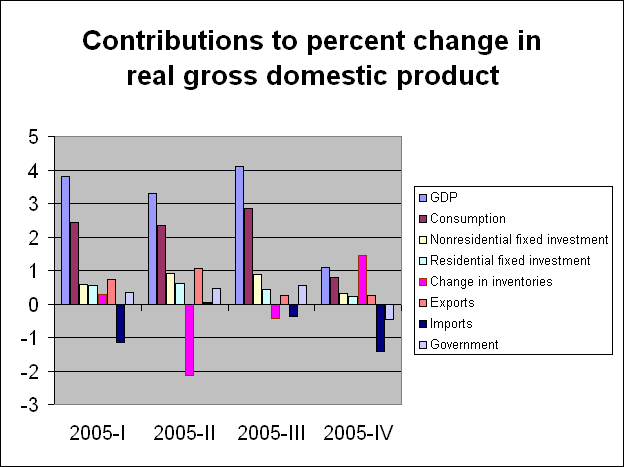 >
And it really was. A drop in consumption spending accounted for the biggest part of the drop, understandable given that it comprises the lion's share of GDP. This wouldn't necessarily be bad if it had been replaced with higher investment or exports, but these both deteriorated as well. With a drop in consumption we might have hoped for lower imports, but these in fact surged, contributing -1.4% to the fourth quarter GDP annualized growth rate.
Here are a few other reactions: