Arnold Kling was surprised by what he found in the energy chapter of the Economic Report of the President.
The energy chapter of the economic report makes the following statement, almost casually:
Although oil prices have risen to more than $60 a barrel in recent months, they have averaged as low as $25 per barrel within the last five years. Having experienced past volatility in oil prices, oil companies report using a working assumption of $15-$30 per barrel for the future price of oil when making long-term investment planning decisions.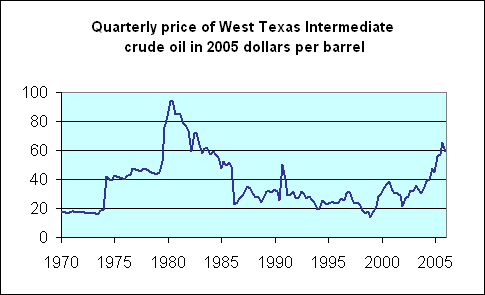 The graph at the right plots quarterly data for the real price of oil since 1970, calculated by multiplying the price of West Texas Intermediate at the end of each quarter by the amount that the consumer price index has risen since that quarter. I was curious to see, considering just the time-series properties of this variable, how plausible is the idea of a return to $15 a barrel.
One way to approach such a question is to use regression analysis to try to predict, say, next quarter's change in the natural logarithm of the real oil price on the basis of currently available information. But the regression coefficient relating next quarter's change in the real oil price to the current quarter's change in the real oil price is essentially zero– if you test the hypothesis that the most recent oil price change doesn't help a bit to make that forecast, you accept the null hypothesis with a p-value of 0.59. We usually aren't confident that we really have something on which to base a forecast unless the p-value gets below about 0.05. Nor does using the oil price changes over each of the previous 4 quarters help, nor the change over the previous two years. Looking at the recent U.S. Treasury bill rates or real GDP growth rates also seems to be of no use for purposes of predicting where oil prices are headed. Even the constant term is statistically indistinguishable from zero (p-value = 0.51), meaning one really has no basis in the historical record for anticipating a tendency for real oil prices to move in any particular direction from here. And one finds no evidence of "mean reversion" in this series– the Dickey-Fuller test easily accepts the null hypothesis of the unit root, that is, it confirms that the forecasting model should be based on the change in oil prices rather than the level (p-value = 0.70).
P-values for F-tests of null hypothesis that lags of indicated variable are of no help in predicting real oil price change

| Variable | 1 lag | 4 lags | 8 lags |
| --- | --- | --- | --- |
| real oil price change | 0.59 | 0.87 | 0.63 |
| U.S. nominal tbill rate | 0.64 | 0.56 | 0.84 |
| U.S. real GDP growth | 0.31 | 0.51 | 0.54 |
The conclusion I draw from such calculations is that a random walk seems to be quite a good approximation to the dynamics of real oil prices, just as it has proven to be for a good many other economic data series. One implication of the random walk model is that, if the quarterly change in the log of the real oil price has variance s2, then the variance of the change over two quarters, being the sum of two uncorrelated variables, has variance 2s2, and the variance of the change over a year would be 4s2. The quarterly value of s is estimated from the 1970-2005 experience to be around 0.16, meaning a forecast of the real oil price a year from now would have a standard deviation of 40.5 x 0.16 = 0.32– it's not that uncommon for the oil price to change by 32% on a year-to-year basis. If we use plus or minus two standard deviations to form a 95% confidence interval and convert from logs back to levels, we arrive at the confidence ranges implied by the table on the right below.
95% confidence interval for real oil price (2005 $ per barrel)
at specified horizon if the real oil price follows a Gaussian random walk

| quarter | lower bound | upper bound |
| --- | --- | --- |
| 2006:Q1 | 43.57 | 82.63 |
| 2006:Q2 | 38.16 | 94.34 |
| 2006:Q3 | 34.47 | 104.44 |
| 2006:Q4 | 31.64 | 113.79 |
| 2007:Q1 | 29.34 | 122.72 |
| 2007:Q2 | 27.40 | 131.39 |
| 2007:Q3 | 25.73 | 139.91 |
| 2007:Q4 | 24.27 | 148.33 |
| 2008:Q1 | 22.97 | 156.70 |
| 2008:Q2 | 21.81 | 165.05 |
| 2008:Q3 | 20.76 | 173.41 |
| 2008:Q4 | 19.80 | 181.79 |
| 2009:Q1 | 18.93 | 190.21 |
| 2009:Q2 | 18.12 | 198.68 |
| 2009:Q3 | 17.37 | 207.20 |
| 2009:Q4 | 16.68 | 215.80 |
| 2010:Q1 | 16.04 | 224.47 |
| 2010:Q2 | 15.44 | 233.22 |
| 2010:Q3 | 14.87 | 242.06 |
| 2010:Q4 | 14.34 | 250.99 |
The implication of these calculations is that, yes, $15-30 a barrel five years from now would be within the realm of what could be judged as consistent with historical experience, though so would $200-250 a barrel.
But surely professional forecasters can do better than this, one would think. Another way to judge how uncertain experts are about where oil is headed is to look at the volatility that is implicit in crude oil options prices. Using the Black-Scholes formula, one calculates an implied volatility from current values of options on NYMEX that corresponds to an annual standard deviation of 32%– the identical number as from the historical volatility above.
Well, what about going into the fundamentals of supply and demand rather than trying to extrapolate the trends? Daniel Yergin of Cambridge Energy Research Associates defends their bottom-up, field-by-field approach, which predicted a near-term glut from excess oil supply:
While questions can be raised about specific countries, this forecast is not speculative. It is based on what is already unfolding. The oil industry is governed by a "law of long lead times." Much of the new capacity that will become available between now and 2010 is under development. Many of the projects that embody this new capacity were approved in the 2001-03 period, based on price expectations much lower than current prices.
Even if one has confidence in the ability to make these field-by-field assessments, there remains substantial uncertainty about predicting the timing and rate at which production from existing fields will decline due to depletion. For example, CERA's projections seemed to call for roughly steady production from the United Kingdom over 2004-2006, whereas as of this point U.K. output is down about 400,000 barrels a day.
And then there's the demand side.

Chinese oil consumption grew at a compounded annual rate of 7.4% per year between 1990 and 2004. Here it's jolly fun to extrapolate that trend forward for another 20 years, at which point China would be guzzling over 30 million barrels a day (50% more than the U.S. consumes now) if the 7.4% trend were to continue. There are sound reasons for believing that growth rate must slow down, but even much slower rates of growth would soon produce an incredible challenge for continuing to find major new oil fields. Such growth in demand from China, not to mention the rest of the developing world, is the major reason oil prices have risen so much over the last few years, and would seem to argue for further price increases even if it proves to be the case that production can continue to be increased.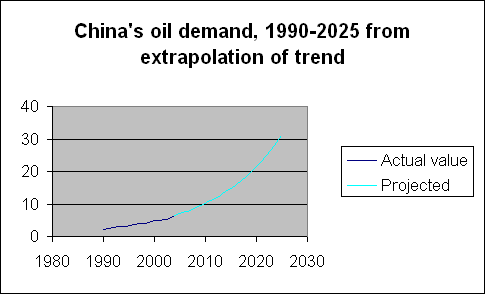 Although the $15-30 oil price strikes me as unlikely, I'm left agreeing that it's hard to rule it out completely. Even granting this analysis, however, I'm still left with the question raised by Arnold Kling: if this is the downside risk that oil companies are contemplating, why don't they hedge away the risk by selling more oil forward at the $64/barrel price that one can currently guarantee through the December 2010 futures contract?
Maybe the argument against hedging is based on the notion that these futures markets are so thin that if Exxon-Mobil starting selling in a bigger way, it would quickly move the futures price. I'm not convinced that such an argument is correct. The futures price is linked through arbitrage to all sorts of other prices in a very big world, and a thin market is no reason to believe the price should be anything other than the fundamental equilibrium value. Increasing sales need not bring about a big change in the price even if the market is currently thin. And even if the market thinness argument were correct, it still makes no sense to me as an explanation for not buying some degree of a hedge, if what you're really worried about is the possibility of a precipitous price collapse. Such concern would go beyond the joke about the economist who won't pick up a $20 bill on the sidewalk because his theory predicts it shouldn't be there. In this case, we won't pick up a $20 bill that we're absolutely sure is right there on the sidewalk on the grounds that, if we took it, we don't know how many more $20 bills will float down to take its place.
Specifically, that's two $20 bills for every barrel the oil companies choose not to sell forward. At a few million a day, that might add up.