I wanted to weigh in on the exchange between Kash Mansori at Angry Bear and Dave Altig at Macroblog.
During each of the past three episodes of monetary tightening, the Fed quickly realized that they had gone too far, and were forced to reduce interest rates after only a short time…. Given that changes in the Federal Funds rate are estimated to take 12 to 18 months to have their full impact on the economy, it seems fair to say that in each of these instances Greenspan probably wished that he had stopped raising rates a bit sooner than he actually did.
The growth rate of the economy in 1995 was indeed weak in the context of the surrounding years. In particular, GDP growth in the first half of the year was woeful. But the policy enacted in 1994 and 1995 arguably set the stage for the years that followed, years characterized by better-than-average growth and stable inflation.

So let me ask this question. Suppose that, in retrospect, we find that the FOMC's current round of rate hikes went a little too far. Suppose that we find that fourth-quarter 2005 GDP growth was not an aberration, but the first of several quarters of sub par economic expansion. But suppose further that we find that the extraordinary sequence of energy-price shocks over the current recovery did not bring a persistent increase in the overall inflation trend. And suppose we find that, following two or three quarters of soft economic activity, GDP expanded at rates between 3 and 4 percent for years after.

Would you complain?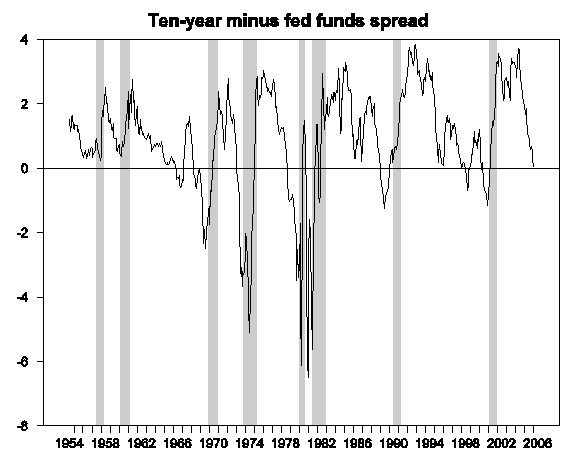 The graph above displays Dave's preferred measure of monetary tightness, which is the spread between the yield on a 10-year U.S. Treasury and the fed funds rate. There are a number of other episodes– namely 1967, 1984, and 1998– that share the feature that Dave highlights for 1995. In each of these episodes, the spread became about as low as it is now or even negative, but any slowdown in growth proved to be both mild and temporary, and perhaps worth the cost if such monetary tightening succeeded in preventing a resurgence of inflation.
Against these one could alternatively have picked other episodes when again the spread reached levels such as we currently see– like 1956, 1960, 1968, 1973, 1978, 1980, 1989, and 2000– when there was not just a slowdown in the growth rate but a fall in output and an economic recession. Presumably Dave would agree that, at least in some of these episodes, the Fed did indeed regret tightening as much as it did.
Now, one of the points that I understood Kash to be making (also here) was that, given the current state of our ability to make economic forecasts, it's hard to know ahead of time which we're talking about– is the Fed tightening just enough to produce a slowdown in the growth rate, or will we actually see a recession?
I've been urging caution for the Fed some time. This is because I have been more concerned about the potential output effects of the oil price increases and the narrowing yield spread than the Fed has been. The 2005:Q4 figures seem closer to my predictions than the Fed's, though I admit that other data have been more favorable. I honestly don't know how the rest of the year is going to turn out.
I don't know, and neither does the Fed. And that's the point. We do know that, in situations like the present one, sometimes the economy has ended up in a recession, and sometimes it hasn't. That ignorance, in my mind, suggests caution. In my opinion, the Fed should not have attempted to fine-tune the recovery of 2003, stimulating the economy as they did until they saw an employment growth rate they liked. And the Fed should not be assuming that they have the wisdom to reverse course in time if a significant slowdown starts to materialize. If you're not that sure what lies ahead, you don't drive quite so aggressively.
My recommendation is that the Fed not act on the assumption that they know what the economy will be doing 6 months from now. And I believe that, if you act on that assumption, your current policy decision would be to wait for some more concrete indications before moving interest rates up any higher.
So, to rephrase Dave's question– if the monetary tightening of 2005 turns into the recession of 2006, would I complain? Sure I would– that's my job.