The United-Arab-Emirates-based company Dubai Ports World has graciously requested a new 45-day review in the hopes of allaying concerns about its proposal to take over the British-based company P&O, which if approved would allow DP World to operate 11 of the 43 terminals at the ports of 6 U.S. cities. Here I summarize a few of the issues that have been raised about this takeover.
Seagirt Marine Terminal, Baltimore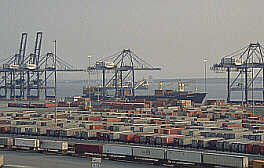 >
Michelle Malkin expresses the concerns that some Americans have:
The issue is not whether day-to-day, on-the-ground conditions at the ports would change. They presumably wouldn't. The issues are whether we should grant the demonstrably unreliable UAE access to sensitive information and management plans about our key U.S ports, which are plenty insecure enough without adding new risks, and whether the decision process was thorough and free from conflicts of interest.
On the other side are those who wonder why this issue is deemed a greater threat than control of the port from which the ships originated and the full chain of influence before a vessel arrives in the United States. Eaglespeak notes this analysis from Meredith Cohn:
Just about any given time, it's possible to find a Greek-owned ship flying a Liberian flag, employing a Filipino crew and carrying cargo from China into a U.S. port terminal managed by a British company that hires American longshoremen.
And Robert Block follows this point up in the Wall Street Journal:
Ultimately, U.S. ports to a large extent are dependent on security measures in foreign ports, making the issue a global problem, experts say. [Council on Foreign Relations Fellow Stephen] Flynn points out that Israel operates one of the most comprehensive security systems in the world, and yet found itself nearly facing catastrophe because it had no control over cargo security procedures at the foreign port where the suicide bombers smuggled themselves into a container.
Security issues aside, Nouriel Roubini makes a point worth repeating:
The current political saga and debate about the purchase by a Dubai-based company of the management of six US ports misses the most crucial point: with a US current account deficit running towards $900b this year and probably above one trillion dollars next year, in a matter of a few years foreigners may end up owning most of the U.S. capital stocks: ports, factories, corporations, land, real estate and even our national parks. This is basic accounting: if you run a current account deficit (import more than export, spend more than your income, save less than you invest) you need to borrow from the rest of the world to finance such excess of spending (on private and public consumption and investment) over your national income. And you need to borrow on net every year to the tune of the current account deficit. That is why countries that run current account deficits become net foreign debtors. There are only two ways in which this accumulation of foreign liabilities of a debtor country can occur: either debt (when you issue private or government bonds purchased by foreigners and when you borrow in the form of bank or other loans from foreigners) or equity that can take the forms of FDI (foreign direct investment when non-residents acquire a domestic firm or other domestic assets such as real estate or when they build a new factory in the US) or portfolio investment in the equity market. So, it is either debt or equity but in either case the foreign liabilities of the US go up and foreigners increase debt or equity claims against the US.
Brad Setser is eager to help us do the math:
So it is not at all unreasonable to say that financing the US current account deficit requires that the US raise $20 billion a week, whether by selling debt, selling stocks or selling off real US assets. 52 x $20b = $1040.
That is equal to selling one Unocal a week to China (CNOOC was willing to pay $20 billion). Or selling three companies the size of P&O to the Emirates a week.
It appears that Americans are not in favor of having U.S. oil companies owned by the Chinese or shipping concerns owned by Arab states. At a minimum, those preferences have now been brought to everyone's attention in a way that could easily offend many of the people in two of the countries we really need to get along with in this world. One wonders also the degree to which such debates may undermine the attractiveness of U.S. assets (both debt and equity) to the foreigners on whose capital we are increasingly dependent. We don't want their money, you say? I think things would quickly look different if foreign investors suddenly decided to shed dollar assets.
Perhaps given Brad Setser's arithmetic it would be wise to take the current account deficit a bit more seriously before we find out whom we're going to offend next.