Now that the Energy Information Administration has published oil production figures for the full year 2005, I was curious to take a look at how the predictions of Cambridge Energy Research Associates are faring thus far.
CERA performed a detailed field-by-field analysis of each of the major oil projects that will be coming into development over the next few years, on the basis of which CERA Chairman Daniel Yergin concluded:
There will be a large, unprecedented buildup of oil supply in the next few years. Between 2004 and 2010, capacity to produce oil (not actual production) could grow by 16 million barrels a day– from 85 million barrels per day to 101 million barrels a day– a 20 percent increase. Such growth over the next few years would relieve the current pressure on supply and demand.
Although CERA did not publicly distribute numerical values for these field-by-field assessments, I carefully eyeballed the graph on the right to come up with rough estimates of the numbers that CERA was apparently proposing for the increase in oil producing capacity between 2004 and 2006 from the eleven countries CERA believed would contribute the most. I then compared these predictions with the increase in the actual oil production for each country between 2004 and 2005 as reported by the EIA [1]
[2].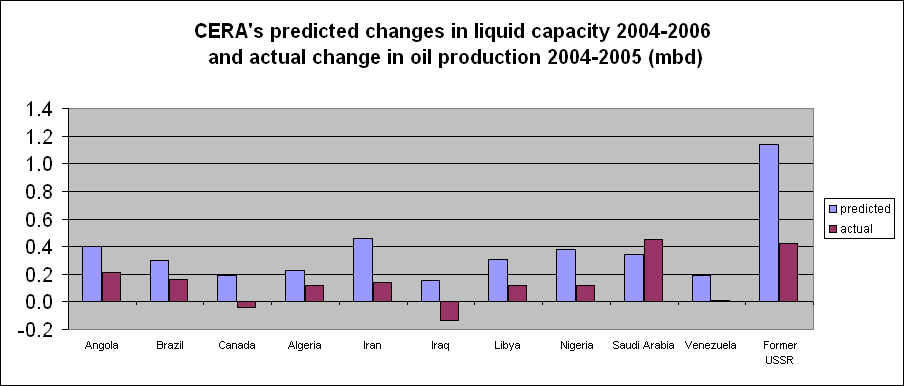 vspace="8">
Two of these important countries (Iraq and Canada) actually experienced production declines rather than increases, and Venezuela delivered essentially no increase. For the others, however, CERA does not seem to be doing too badly at this midterm review. Taken as a group, these countries were expected by CERA to contribute 4.1 mbd of extra production by 2006, and so far they are providing 1.6, not too far from the halfway mark.
On the other hand, when you look at the worldwide total, the discrepancies are more significant. Worldwide, CERA said production capacity would increase by 5.5 mbd, whereas in the event, world oil production was only 1 mbd higher in 2005 compared with 2004. The latter statistic also confirms that although strong demand was the principal factor that drove oil prices higher in 2004, supply constraints were the big story in 2005.
If production in these 11 countries alone was 1.6 mbd higher in 2005 than in 2004, why was production worldwide only 1 mbd higher? Basically production increases in these and other countries were offset by production declines in two key regions: output from the U.S. and the North Sea both fell by over 400,000 barrels a day in 2005 compared with 2004.
One can get slightly different numbers if one interpreted CERA to have been predicting the change between, say, 2004:Q4 and 2005:Q4. In this case, Canada would indeed be judged to be up, not down, while both Saudi Arabia and world total production were essentially flat.
For the U.S., the biggest story is the hurricanes, which MMS reported had resulted in a cumulative drop in production of 111.6 million barrels by January 5, 2006. If you put this on a per day basis for the entire year (111.6/365), that would explain a drop of 0.3 mbd (compared with the actual observed U.S. production decline of 0.4 mbd for 2005 as a whole).
For the North Sea, the story is a matter of depletion– these fields are running out of oil at a much faster rate than was anticipated. Indeed, the graph from CERA at the left seems to have assumed that production from the U.K. at least would have held steady. Depletion could also be the reason the U.S. decline was greater than could be explained just by the hurricanes.
These calculations underscore that it can be difficult to anticipate depletion rates accurately. The concern of some analysts (e.g., The Oil Drum or Jerome a Paris) is whether faster decline rates may soon set in for some of the much bigger producers including
Saudi Arabia or Russia. Stuart Staniford has a nice summary of why he believes the peak in global oil production is about now.
Overall, I would say that the CERA estimates so far have not done that badly. But they also remind us that even the most careful analysis can end up missing by a great deal.
In case you were wondering why oil is currently selling for over $60 a barrel rather than $30.
---
Technorati Tags: oil prices,
oil,
peak oil