The yield on 10-year U.S. Treasuries is up almost 40 basis points so far this year, which means it's been gaining on the fed funds rate and reducing the prospect of full inversion of the yield curve. Why have rates been going up?
<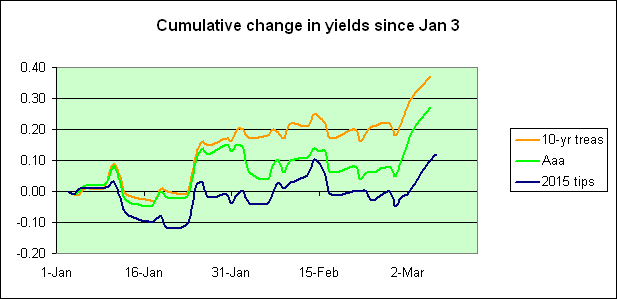 >
Part of the answer appears to be that investors are a little more worried about inflation. For example, the yield on the 2015 1-5/8 Treasury Inflation-Protected Security is only up 12 basis points for the year, suggesting that while there has been some rise in the real rate, a bigger part of the move has been an increase in inflationary expectations.
It's also interesting to note that the yield on Aaa-rated corporate debt has not risen quite as much as the Treasuries, either, so there has been a modest degradation in the particular attractiveness of Treasury debt to some investors. One wonders whether the fact that the Treasury is forced to resort to accounting games in order to make payments on the debt could have any effect on yields. This is sadly a familiar ritual in American politics– Congress votes to spend X, votes to collect taxes Y, but then declares loud indignation about the fact that the government is then required to borrow X – Y. Their hope is that American voters will be fooled by their speeches but that foreign investors will recognize the posturing as pure bombast.
If we focus just on the dramatic moves of the last week, however, all the yields seem to have moved up together, so the most recent developments have shown up as an increase in real interest rates across the board. I'm inclined to throw in my hat with Dave Altig, Tim Duy, and William Polley in reading this as suggesting that investors may have revised upward their expectations of near-term real economic growth. Specifically, whatever the pessimistic concerns on the part of bond market participants were that may have been contributing to the yield curve inversion are perhaps now lightening at least a bit.