The mainstream media finally seems to be catching on to the fact that the Dubai Ports World acquisition of the British port services company P&O would involve not six but over 20 U.S. ports. It's curious that no one has yet followed up on the fact that the reason the original number was reported as six is because that's the information that was given out by the Department of Homeland Security.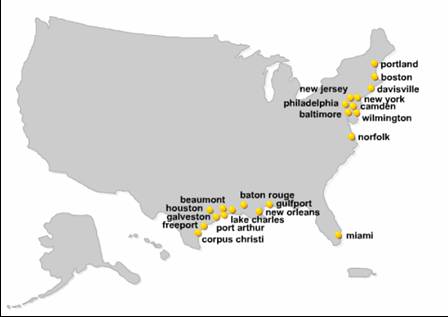 >
Over a week ago, Ben Muse and Econbrowser called attention to a Department of Homeland Security fact sheet that stated in part:
DP World will not, nor will any other terminal operator, control, operate or manage any United States port. DP World will only operate and manage specific, individual terminals located within six ports.
In the comments on my original post, Econbrowser reader Movie Guy extensively documented that the acquisition involved not six but rather 21 separate ports that you can find on
this map from the P&O website. For example, if you click on that map on Gulfport, Mississippi, you find the following details about P&O operations there:
In Gulfport, P&O Ports performs stevedoring and terminal operations for Chiquita and Crowley containers, which total about 75,000 units annually. Approximately 40,000 container moves carried by Crowley are on RoRo vessels plying the Caribbean.

>

Two shipside freezers operated by P&O Ports accommodate poultry, poultry parts and other frozen cargoes and account for about 200,000 tons of export cargoes annually.

Gulfport, Mississippi is one of P&O Ports' most southern ports. Located on the U.S. Gulf coast, the Port consists of nine berths ranging from 525 to 750 ft. in length. All berths at the Port of Gulfport are multi-use, multi-purpose but are primarily assigned as follows: three container berths, two break bulk/refrigerated cargo berths, and four general cargo berths suitable for break bulk, neo-bulk and project cargo. Container operations are supported with ships gear.

The Port Authority's 100,000 sq. ft. freezer facility is located on the Port's West Terminal and is operated by P&O Ports. The facility includes a 3,000 sq. ft. blast freeze capacity, an ammonia-based cooling system capable of maintaining subzero temperatures, and available on-site USDA quality control inspection services with computerized reporting.
Both Ben Muse and Econbrowser had follow-up posts asking what was the thinking behind the original Homeland Security fact sheet. So far, no one else in either the government, blogosphere, or the mainstream media seems to have taken up that question.
So now I have two questions:
Why did the DHS fact sheet not include information about the other U.S. ports in which P&O is involved?
Why after two weeks has DHS not issued a clarification to their still-standing fact sheet?




---

Technorati Tags: Dubai Ports World,
DP World