Stronger employment growth in February than I and many others had been expecting.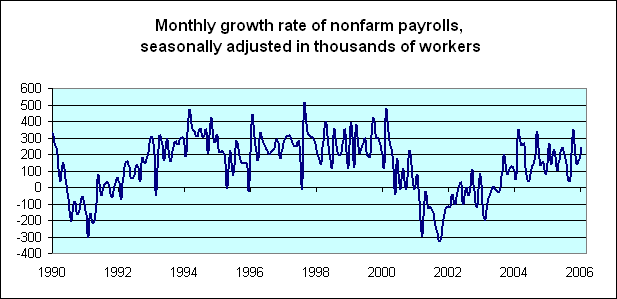 >
BLS reported Friday that seasonally adjusted nonfarm payrolls grew by 243,000 workers in February, much better than the average growth of 180,000 jobs per month seen over the last two years, though below the 255,000 per month average of 1994-1999.
I take this as another indication that the economy is recovering nicely from the bump in the road we encountered last quarter. Coupled with the increase in bond market expectations of inflation that seems to have developed over the last two months, this has to raise the probability of more hikes in the fed funds rate from the Federal Reserve.
And what does the new data tell us about fiscal policy? Outside the Beltway notes the following analysis from Representative Bill Thomas (R-CA), Chair of the House Ways and Means Committee:
The creation of 243,000 new jobs offers further evidence that our work in Congress to lower the tax burden on workers and on business capital has produced an environment in which the American economy can thrive. Our policies have helped create 2.0 million jobs in the last year and almost 5.0 million jobs since May 2003, and have made the American economy the most dynamic in the industrialized world.
Thomas is joined in this enthusiasm by Representative Jack Kingston (R-GA):
For those who say tax cuts do not help stimulate the economy, today's news emphasizes the fact that President Bush's tax cuts have now done for the economy what Kennedy's cuts did in the 60s and Reagan's cuts did in the 80s.

The DOL's Bureau of Labor Statistics (BLS) employment report showed that 243,000 jobs were created in February, for a total of nearly five million new jobs since May 2003 and more than two million in the last year alone. The new job growth continued a significant trend that now stands at 30 consecutive months of uninterrupted job growth.
Most economists would certainly agree that tax cuts can help stimulate the economy. Where we may differ is on the mechanism whereby this stimulus occurs.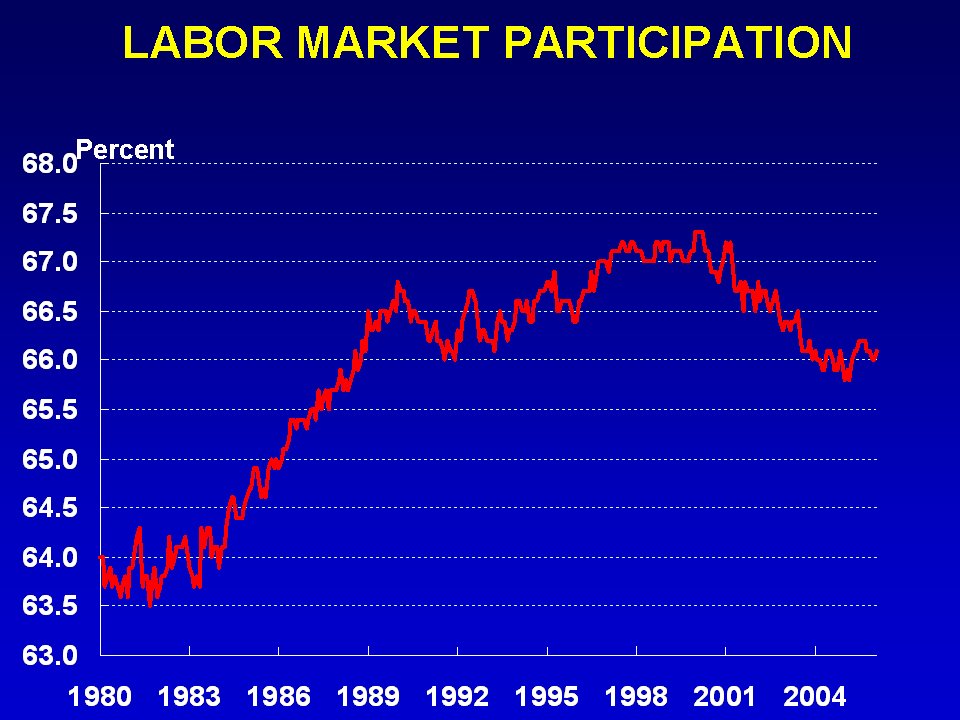 width="480" height="360"td>
One possibility is that lower income taxes increase the rewards to working and may thereby lead to an increase in the number of people willing to work. However, the fraction of people who are either employed or looking for jobs has dropped significantly over the last several years. I am not among those who see this as necessarily a bad thing, for reasons I explained here. But it is certainly clear that such an effect has not been a mechanism whereby the recent tax cuts could have led to faster growth.
A second possibility is that cutting tax rates on capital income may increase personal saving, and thereby help promote investment over the long run. The rather spectacular drop in the U.S. personal saving rate belies this interpretation as well– people are spending their tax cuts, not saving them. Admittedly, this drop in saving should be viewed as a continuation of a long-run trend. Even so, it is abundantly clear that this cannot be a mechanism by which the tax cuts might be claimed to be exerting a beneficial effect.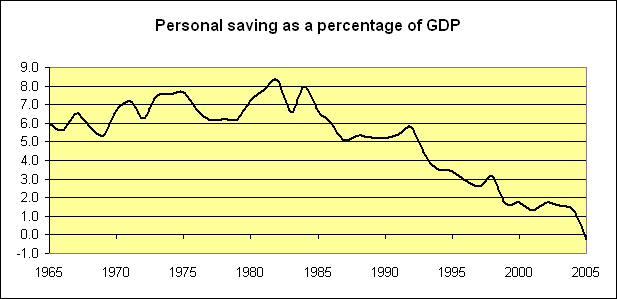 >
We are then left then with the third argument, which is that the budget deficits may be serving to stimulate aggregate demand. Such a claim would in my opinion be accurate. However, the question is whether stimulating consumption spending is a desirable policy goal at this point in the business cycle. I believe that our big concerns at the moment should be reducing the trade deficit and increasing national saving, both of which goals are undermined by a big federal deficit. And it surely makes no sense for Congress to be doing its best to stimulate aggregate demand while the Federal Reserve is determined to reduce aggregate demand.
So yes, I agree that the latest employment figures are good news. But I do not believe that they could be used as a justification for doing nothing about the budget deficit.