Long-term interest rates continue to creep up.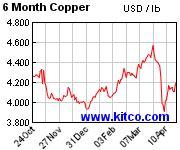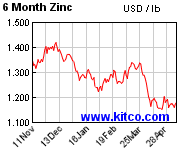 The interest rate on 10-year Treasuries is now 50 basis points higher than it stood at the start of the year. This rise coincided with a run-up in many commodity prices, leading some such as Capital Spectator to speculate that the Fed is losing the fight to persuade markets it can control inflation.
I commented earlier that the twenty-basis-point increase in ten-year yields in January and February did indeed seem to reflect concerns about rising inflation. However, the chart below updates those data on the 10-year nominal yield and inflation-insured TIPS yield. Since both the capital value and coupon of the latter are guaranteed to rise with the consumer price index, movements in TIPS yields cannot be due to inflation fears. Yet clearly nominal and inflation-adjusted yields have moved very much in tandem over the last month. The 30 basis point gain in long-term yields over that month certainly looks to me like a rise in real yields, not inflation concerns.
It makes sense to look for a common factor behind the commodity bull market and the fixed-income bear market. What might that common factor be, if it indeed is not a concern about inflation? One possibility is that the market has revised its expectation of real economic growth upward. Stronger real growth would be a factor that would boost demand for both commodities and investment borrowing.
If so, is the market right about that forecast? A very strong value for first-quarter GDP growth is certainly something we might look for at this point. As for the rest of 2006, I'm not ready to jump on that bandwagon just yet.