People who bought long-term Treasuries at 4.3%, that's who.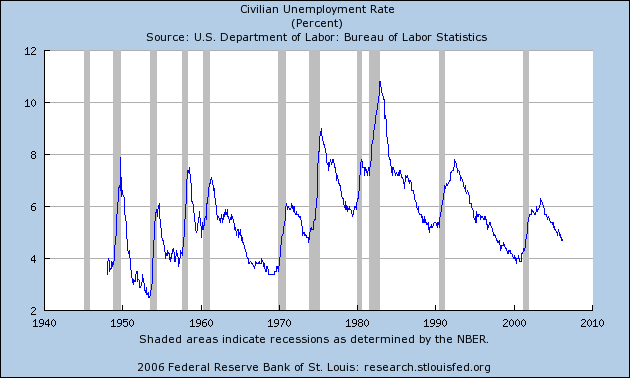 >

The week ended with a very positive March employment report. The unemployment rate is back down to 4.7%, a full percent below its average value over 1990-99. 211,000 new jobs in March continues a solid trend, and the rise in the fraction of Americans employed was enough to make even an Angry Bear say, and I quote, "YEA!". As always, Dave Altig does an excellent job of summarizing other reactions to the news, which were generally pretty positive.
If the news is so good, then why did stocks have such a bad day Friday? The answer is the rise in long-term interest rates. By raising the discount rate, this depresses the present value of the claim to a given stream of corporate earnings, so that, even though the economic outlook looks better, the value of stocks can tumble.
And why did long-term yields go up? The 10-year nominal Treasury was up 8 basis points, and the 10-year inflation-indexed Treasury was up 5 basis points– the primary story remains a rise in real interest rates rather than new inflation fears. And the fact that such big interest rate moves coincided with the release of the strong employment report confirms my interpretation that increased optimism about economic growth has been the big factor driving the bond market over the last month.