Five weeks ago, I wondered whether oil prices might have peaked at $75 a barrel. Time to take a look at some of the data that have come in since then.
The graph below plots the weekly average U.S. retail gasoline price (red line, units on left axis) and the average U.S. gasoline demand over the four weeks ending at the indicated date minus the average demand of the corresponding 4-week period of the preceding year (blue line, units on right axis). For the past year, we've seen a consistent pattern– whenever the retail price is above $2.50 per gallon, U.S. gasoline use has been kept at or below the levels of the previous year. Motley Fool notes related developments in Asia. I continue to believe that $70 oil generates lots of incentive for consumers to
change their

habits. For this reason, I have a hard time seeing strong demand as the factor supporting an oil price above $70 a barrel.
Data source: EIA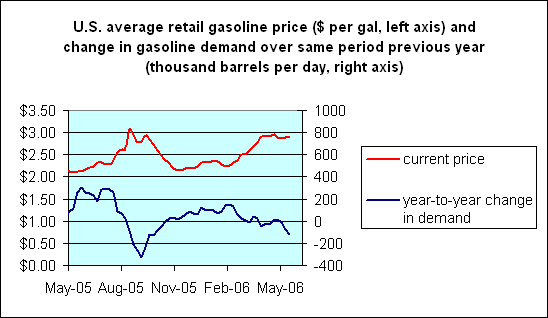 On the supply side, most of the discussion in the financial press seems to focus on Iran or Iraq. That is understandable, given the drama of geopolitical events unfolding in those locations. But from the perspective of global oil supplies, I'm inclined to pay attention to two other suppliers– Nigeria and Saudi Arabia.
Conflicts in Nigeria reduced that country's production by over 300,000 barrels a day in March compared with where it had been in December. More recent attacks may have increased that loss to 800,000 barrels a day. Remembering the scale on the right-hand axis in the figure above, it takes a lot of conservation to try to make that up.
And the Saudis yesterday announced their intention to increase capacity to 12 million barrels a day (mbd) by 2009, which would be 2.5 mbd above the 9.5 mbd they have been pumping for the last year. On the other hand, if one looks at actions rather than words, they apparently only produced 9.1 mbd in April, which would be a production decrease of 400,000 barrels a day, and this could have dropped further to 9.05 mbd in May. I'm surprised that nobody else is talking about the latter development– perhaps like me, they're not sure just what it all means. But if, for whatever reason, Saudi production is headed down rather than up over the near future, it will be a much bigger story than any of the others. All the more reason it would be nice to see some more people doing some investigating here.
---
Technorati Tags: gas prices,
gasoline prices,
oil,
oil prices,
oil demand,
oil supply