There's something fishy about the story in Monday's Wall Street Journal.
The Wall St. Journal reported Monday that Saudi Arabian oil minister Ali Naimi acknowledged that Saudi Arabia only produced 9.1 million barrels of crude oil per day in April. That's 400,000 barrels less than they have typically been producing over the last two years, which would be a significantly bigger supply reduction than that resulting from conflict in Nigeria in February and March.
The Journal reported:
In an interview after a meeting here of the Organization of Petroleum Exporting Countries, Ali Naimi said other cartel members are having trouble finding buyers for all the crude they are producing, at a time when global stores are near full and many refiners have closed facilities for routine maintenance. One Saudi official said an estimated three million barrels a day of refining capacity is out of action and unable to process crude, at a time when the world is using some 84 million barrels a day of oil products like gasoline and jet fuel.

"It's not just heavy oil. Even light oil is having problems" finding buyers, Mr. Naimi said, referring to premium grades of crude known as light crude that are highly prized by refiners because they have high gasoline yields.

Asked if the kingdom was easing up on supply because of concern about the buildup of inventories in the U.S. and other importing countries, Mr. Naimi rejected such a motive, replying: "At $70 a barrel?" Mr. Naimi suggested that producers will sell all the oil they can at such high prices.

The implication of Mr. Naimi's remarks is that Saudi Arabia would again open its oil spigots when buyers ask for more oil. For the past two years, the Saudis say, their policy has been to sell as much oil as buyers want, to the limit of the kingdom's production capacity.
Now, what's wrong with this picture? Oil is selling at near-record high prices, and the Saudis are complaining that nobody wants to buy their oil. Wouldn't you think, if that were the problem, they might consider offering to sell at a lower price? Well, the Saudis did just announce that they are indeed cutting the price at which they sell crude to the U.S.– by 30-35 cents a barrel. However, they are simultaneously raising the price at which they sell crude to Europe by 45-75 cents a barrel. Sorry, but the claim that nobody will buy and the Saudis can't do anything about it just doesn't fly with me.
Data source: EIA and Naimi's remarks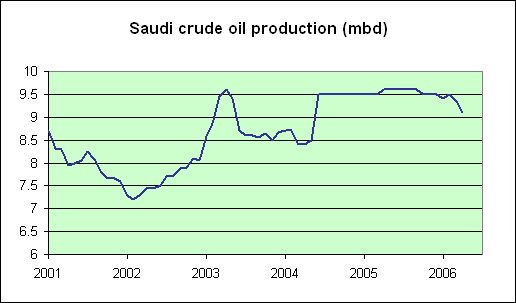 Nor do I believe that the classic story of a monopolist cutting back production in order to raise the price fits the facts any better. By itself, Saudi Arabia accounts for just a little more than 10% of global production, meaning that, unless you think that the elasticity of oil demand is less than 10%, their revenues fall whenever they unilaterally cut back production. I don't see their recent behavior– for example, increasing production by 1 mbd in June, 2004, when prices were below $40/barrel– as consistent with the monopolist story, either. And while I believe the Saudis are quite capable of letting output drift down in order to try to defend a price floor, wherever such a floor might be, it's not $70 a barrel.
If we are to accept Naimi's remarks at face value, the natural interpretation might be that Saudi Arabia is only able to maintain 9.5 mbd production by selling a significant volume of crude whose quality is sufficiently low that many refineries are unable to handle it. From this perspective, the drop in production might be viewed as a caution for those such as Cambridge Energy Research Associates who have been counting on big production increases from Saudi Arabia. Peak Energy lays out the case colorfully:
Cutting production, eh? As planned? Sure. The road past peak oil is coming into focus. Long time readers of this blog are likely aware that Saudi Arabia has a nasty habit of trying to sell their tar, asphalt, old tires, and camel dung on the global oil bourse. When they don't find buyers, they whine to credulous reporters.
Is that the story of what's going on? I don't know. But I must confess that the picture painted by the Wall Street Journal doesn't make a whole lot of sense to me.
---
Technorati Tags: peak oil,
Saudi Arabia,
oil,
oil prices,
oil demand,
Ali Naimi