The response of oil prices to the news from Alaska has been more modest than I was expecting, with the September NYMEX crude contract currently up about $2 to $77/barrel.
Oil giant BP today released the following statement:
BP Exploration Alaska, Inc. has begun an orderly and phased shutdown of the Prudhoe Bay oil field following the discovery of unexpectedly severe corrosion and a small spill from a Prudhoe Bay oil transit line. Shutting down the field will take days to complete. Over time, these actions will reduce Alaska North Slope oil production by an estimated 400,000 barrels per day.


The decision follows the receipt on Friday, August 4 of data from a smart pig run completed in late July. Analysis of the data revealed 16 anomalies in 12 locations in an oil transit line on the eastern side of the oil field.

In response to the inspection data, BP conducted follow up inspections of anomalies where corrosion-related wall thinning appeared to exceed BP criteria for continued operation. It was during these follow up inspections that BP personnel discovered a leak and small spill estimated at 4 to 5 barrels.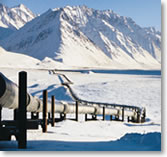 Prudhoe Bay is America's biggest oil field, and this account does not sound to me like a problem that's going to be fixed quickly or easily. A 400,000 barrel/day shortfall would represent about 5% of total U.S. crude production (including lease condensates, natural gas plant liquids, and refinery process gains) and 0.5% of the world total. The latter is the relevant number for the effect on the price of oil, though the former may imply a disproportionately bigger impact on the U.S. west coast and balance of payments.
As of the moment, the NYMEX September contract has moved (76.85 – 74.76)/74.76 = 2.8% in response to news of a global production shortfall of 0.4/84.5 = 0.47%, which would be consistent with a short-run demand elasticity of 0.47/2.8 = 0.17. One could certainly defend a lower short-run elasticity than that, implying a bigger price increase. Calculated Risk is predicting a $5/barrel price increase to $80/barrel.
Will the lost Alaskan crude be made up elsewhere? I wouldn't look for it to come from Saudi Arabia, where the most recent data continue to confirm further drops in production. A survey by Bloomberg of oil producers anticipates another 70,000 barrel/day cut in Saudi production to 9.15 mbd for July, while Petrologistics said it might be as low as 9 mbd. Such numbers imply that the Saudis are currently producing 400,000 to 500,000 fewer barrels/day than what they did last year.
The consequences of the Saudi cuts had presumably already been factored into oil prices, and the possibility of a disruption such as that from Alaska may be argued to have been priced in as well in terms of the pre-existing speculative premium. Still, this is not good news at all for oil markets and the U.S. economy.
---
Technorati Tags: oil,
oil prices