Chevron Corporation announced on Tuesday a promising test from a well deep below the Gulf of Mexico, a project in which Devon Energy Corporation and Statoil each also hold 25% interest.
Many press reports (for example, CSM) described this as potentially increasing U.S. petroleum reserves by 50%. The 50% figure appears to come from taking the upper end of an estimated range of 3 to 15 billion barrels of ultimately recoverable oil. That 3-15 billion barrel estimate in turn is not found in Tuesday's official press releases from either Chevron or Devon, but instead apparently comes from an article by Chevron engineers published in World Oil in May 2005. This week's production test is evidently being interpreted as justifying some of that earlier optimism.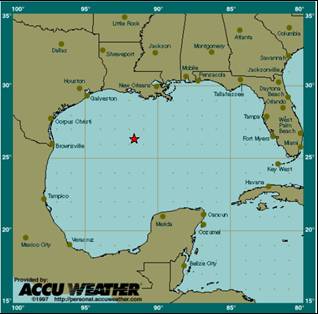 What one does find in the official press release is some very impressive details of how much was required from Chevron to make this find. The well is located 270 miles southwest of New Orleans, or about a third of the way across the Gulf of Mexico. It begins under 7,000 feet of seawater, and proceeds from there another 20,000 feet into the earth's crust. That's a total of over 5 miles down, setting all kinds of records for pressure, depth, and duration.
Meanwhile, at the ocean surface, Chevron and its partners can basically count on the fury of future Gulf storms to pound savagely on the billions of dollars of equipment a full-scale production operation will require. 180,000 barrels of production of oil from the Gulf of Mexico was still shut-in as of June 2006 as a result of last summer's Hurricanes Rita and Katrina, at which point MMS decided to give up on reporting the lingering damage estimates from last year's storms. BP's massive ocean rig Thunderhorse, found listing after 2005 Hurricane Dennis, is still not expecting to see operation until 2007.
Some observers have also noted the parallel with an announcement last March that Mexico had discovered another 10 billion barrels of oil in the Gulf of Mexico. That announcement has subsequently appeared to have been unwarranted.
But let us suppose that Chevron's optimism turns out to be fully justified, and they have a new oil supply to rival Alaska's Prudhoe Bay. Finding and producing new oil, even in these quantities, need not mean that world oil production will increase. The reason is that, after a sufficient quantity of oil is taken out of the ground from the reservoirs we've found earlier and are currently exploiting, less oil starts to be produced from those older fields each year, a phenomenon known as oil depletion. Harry J. Longwell, a retired senior vice president for Exxon-Mobil, estimated that average global depletion rates are around 4-5%. The reality may prove to be greater or smaller than this figure, but if we use 4.5% as a benchmark, that means that enough new oil fields need to come on line each year so as to add an additional 3.8 million barrels per day of production just to keep global production from falling. If we accept, for example, the estimate of 750,000 barrels per day of production from the Chevron field that some have proposed, and if all we did globally was to bring on line 5 new fields like this every single year, all that would accomplish would be to keep global production from falling.
Includes lease condensate and excludes natural gas liquids, other
liquids, and refinery process gains. Source: href="http://www.eia.doe.gov/emeu/aer/txt/stb0501.xls">Energy Information
Administration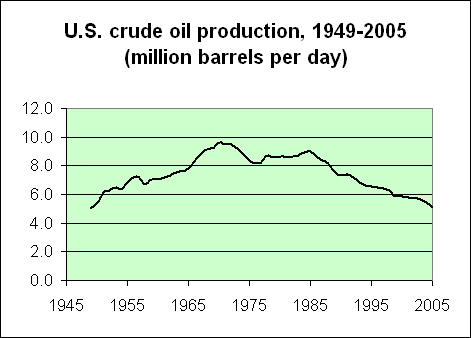 Of course, it's a bigger and more important contribution if we compare the potential find just with the U.S. market rather than the world as a whole. Even so, when we look at the U.S. in isolation, the reality of the logistical challenge raised by depletion becomes all the more stark. Basically U.S. production has been in decline for the last 35 years, despite a huge increase in drilling effort. Production from Prudhoe Bay in the 1980s produced a temporary blip up in the long-run downward trend.
A specific contribution to U.S. production from the new find is at least a half-dozen years away. If you extrapolate the slope of -129,000 barrels/day in U.S. production since 1970 another 6 years into the future, new production of 750,000 barrels/day coming on line in 2012 would in fact put us exactly where we are in terms of U.S. production right at the moment.
href="http://www.gomr.mms.gov/homepg/regulate/environ/ocean_science/mms_ocean_06_may_jun.pdf#search=%22walker%20ridge%20block%20758%20map%22">Chevron's Jack Discovery Production Well #1 Test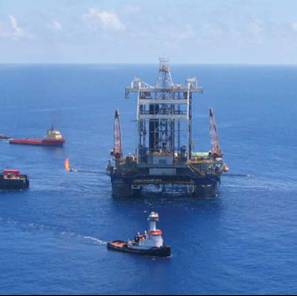 The real grounds for optimism here are presumably the fact that this is the first time we've explored at such extremes, and the payoff looks to be large. That certainly raises the possibility that there will be more related good news that we may expect in the years to come as even these new drilling records come to be broken. Nevertheless, some of that "good news" is already incorporated, for example, in the forecasts of Cambridge Energy Research Associates, whose optimism in their report from last summer was based in part on the expectation of significant new production from "ultra-deepwater" oil. In any event, I would suggest that greeting the Chevron announcement as heralding the end of the end of oil or signaling that sky high oil prices may be a thing of the past may be a bit premature.
None of which is to take anything away from the technological achievement represented here, for which I think the only reasonable reaction is one of awe and respect. Celebrating this success is fully appropriate. I'm just not prepared to join those who are taking this as reassurance that what we've seen in oil markets over the last three years will now just fade away like some forgotten bad dream.
---
Technorati Tags: oil prices,
peak oil,
oil supply,
oil,
Chevron,
Gulf of Mexico