The Office of Federal Housing Enterprise Oversight (OFHEO) today released its house price indexes for 2006:Q2, which continue to show house prices climbing in all but five states, though with a significantly slower rate of increase than previously.
One-quarter logarithmic percent change in average house price between 2006:Q1 and 2006:Q2. Data source: OFHEO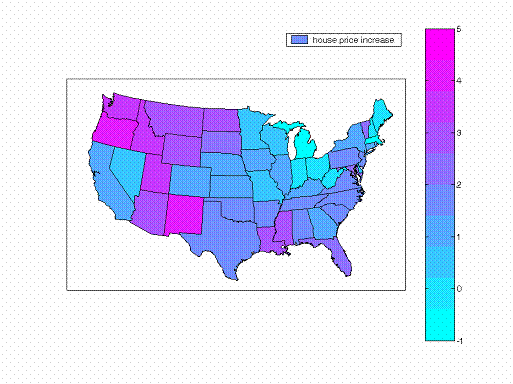 During the second quarter, statewide average prices started to fall in five states in the Midwest and New England. Even so, half the states saw better than a 1.6% (logarithmic) increase in prices during the second quarter, and a dozen states experienced second-quarter price appreciation that would exceed 10% if maintained for a year. Looking at the year-to-year price change, as of 2006:Q2 prices were still up in every state, up 9% on average and up over 20% in still-hot Arizona.
One-year logarithmic percent change in average house price between 2005:Q2 and 2006:Q2. Data source: OFHEO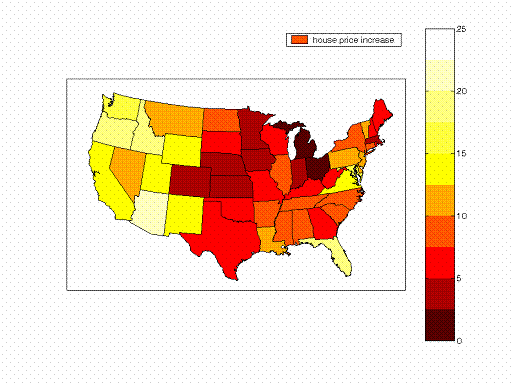 Prices are usually a lagging indicator of housing market conditions, coming down only after home sales decline and inventories rise. With the latter two trends already clearly established, I might have expected to see more outright price declines by this point rather than simply a moderation of the rate of increase.
I continue to watch this with concern, because the magnitude of the previous run-up in real estate prices suggests that the size of ultimate price declines could be quite dramatic as well. If one takes a market fundamentals view of the last five years, the earlier price appreciation would be attributed to falling interest rates, growing population and income, and restricted housing supply. The first factor is presumably the most important, and, if population and income were constant, would suggest that now that interest rates have come back up, the previous increases in house prices would be expected to be reversed. The reality is not quite so stark, since continuing growth in population and income can also provide for some of the adjustment. Even so, I would not discount the possibility of significant downward price movements.
And what then would become of the billions in interest-only, no-down-payment loans currently outstanding, and the home equity loans that have financed much ongoing consumption spending? Ah, that's the question of the hour, isn't it?
---
Technorati Tags: macroeconomics,
housing