Well, that 3.5% 2006:Q4 GDP growth was fun while it lasted.
The Bureau of Economic Analysis reported today that U.S. real GDP grew at a 2.2% annual rate in the fourth quarter of last year, rather than the 3.5% originally reported. Of the 1.3% lost output growth, about half is due to a downward revision of the end-of-quarter inventories.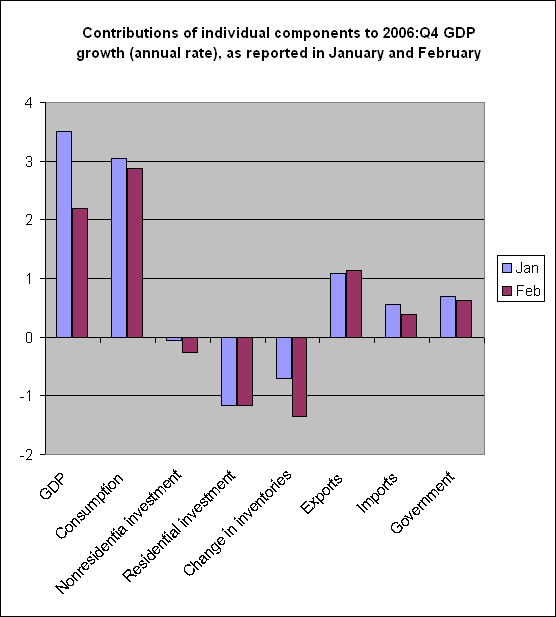 To the extent that a sale of $100 in consumption goods comes out of inventories rather than production, those sales during the period do not represent newly produced goods. Thus, when inventories decrease during a quarter, that makes a negative contribution to that quarter's GDP– we subtract the $100 inventory change from the $100 consumption spending if we want to calculate what was actually newly produced during the period. Because inventory drawdown during 2006:Q4 is now thought to be larger than originally estimated, GDP growth for the quarter is correspondingly now believed to be lower than the original estimate.
Although it makes a negative contribution to GDP, a decline in inventories is not a particularly bearish indicator. It means that businesses will go into 2007:Q1 with leaner inventories, enabling them to better weather any drops in demand in 2007:Q1, and possibly introducing an additional source for 2007:Q1 demand if businesses try to rebuild those inventories. To the extent that this is the reason for the downward revision in the 2006:Q4 numbers, it does not trouble me.
The other half of the downward revision came in equal parts from consumption spending, imports, and nonresidential fixed investment. The 0.2% decline in the contribution from consumption also doesn't much worry me, as it is not a big drop relative to the large size of consumption expenditures and does not suggest anything particularly alarming going on. Nor does the downward revision coming from imports bother me. Imports are another item that enters GDP with a negative sign, and the BEA is reporting that the drop in imports in 2006:Q4 was smaller than originally estimated, meaning that the boost to 2006:Q4 GDP growth from this category was therefore smaller than originally reported. I'm not bothered by this, because I found the magnitude of the decline in imports as originally reported a little implausible to begin with, so to now be told that the decline was in fact not as big as originally reported is for me no big deal. The one worrisome bit for me in today's numbers is the 0.2% decline in the contribution of nonresidential investment. If that is tanking along with residential investment, a recession may be impossible to avoid. Nevertheless, the contribution of nonresidential fixed investment to 2006:Q4 growth is still only reported to be -0.26%. If that gets no worse, we'll survive.
So, although a revision of reported GDP growth from 3.5% to 2.2% sounds worrisome, the details don't bother me that much. 2.2% is closer to what I was expecting for 2006:Q4 anyway, so essentially all this does is put us back where many of us thought we were in November.
Besides, we already have plenty to worry about from all those other distressing numbers.
---
Technorati Tags: GDP