How alarming is it that 200% of 2007:Q1 GDP growth came from consumption spending?
When one looks at BEA's breakdown of the 1.3% 2007:Q1 GDP growth, one finds that, if consumption spending had been as observed, and all other components of real GDP had simply held constant between 2006:Q4 and 2007:Q1, first quarter real GDP growth would have been 2.66%. The observed 1.3% growth of GDP is due to the fact that several other components, particularly residential fixed investment (housing) were not holding steady but were instead experiencing significant declines.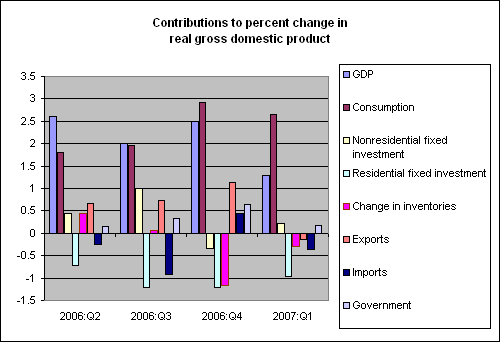 Unlike Kash Mansori, I do not see the fact that strong consumption growth alone was holding things up as being in and of itself alarming. If income growth is temporarily low, standard consumer theory suggests that consumption spending would continue on something close to its original trajectory, as consumers borrow to get past the temporary problems. Strong consumer confidence suggests that is how consumers currently see things. So, if you thought the other new negative contributions to 2007:Q1 growth (specifically the inventory drawdown and weak exports) were strictly temporary, this pattern might be exactly what you'd want and expect to be seeing.
My view is the same as Calculated Risk [1], [2]— the key thing to watch is nonresidential investment. I was very worried when this had made a negative contribution to 2006:Q4 GDP growth, and relieved that its contribution to 2007:Q1 is back into positive territory.
I feel the latest data leave the situation much as it has been. If all that happens is that housing continues at its current level of problems, that will continue to subtract 1% from each quarter's GDP growth, as it has each quarter for the last year now. But unless that spills over into other sectors, the economy will continue to grow. We're all watching for more indications of that spillover. But it hasn't happened yet.

---