Here are some of the thoughts from other analysts about why reported residential construction employment has not been plummeting.
First, a reminder of the basic puzzle: residential construction employment, as measured by the BLS nonfarm payroll estimates, has fallen very little, despite a tremendous drop in the number of new residential units completed:
Number of new housing units completed (in thousands, left scale, from Census Bureau), and number of people employed in residential construction (in thousands, right scale, from
Bureau of Labor Statistics).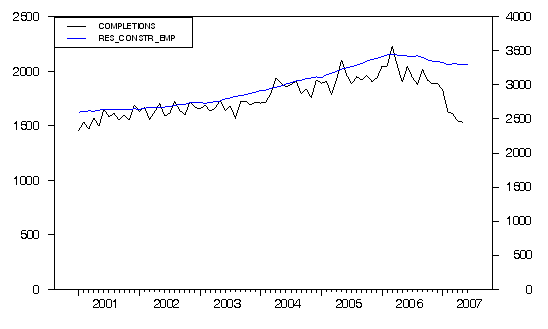 Calculated Risk offered this list of possible explanations:
The BLS has not counted illegal immigrants working in construction.
The BLS Birth/Death model has missed the turning point in employment, and therefore the BLS has overstated the current number of residential construction employees.
Some construction employees have moved from residential to commercial work, but they are still being reported as residential construction employees to the BLS.
Some companies are "hoarding" workers for the expected recovery.
Many workers are still employed, but they are working far fewer hours.
To this list two more might be added from Econbrowser readers. Steve suggests that many construction workers are now employed with home improvements, while Ray Stone identifies this additional problem with the BLS estimates:
The average private sector establishment paycount per the BLS sample is about 82 workers, but from the QCEW data it is only about 13. The BLS attempts to correct for this in the so-called "Probability-Based" sample by assigning weights to individual respondents, effectively weighting smaller respondents more heavily than larger respondents, to account for the mismatch of sample vs. universe. My sense is that it is nearly impossible to gauge employment is the very small firms (i.e. 1 to 4 workers, and 5 to 9 workers). From the Q3-06 BED data it is apparent that the most acute weakness in payroll growth was in the smallest establishments.
There was also a useful discussion about possibility (1) at the WSJ's Real Time Economics Blog:
Douglas Lee: First, there is an implicit assumption… that illegal workers aren't reported on payrolls. That assumption may be incorrect. In 2005 GAO did a study of funds paid to social security that could not be matched with the workers. They found nine million records with the same social security number– all zeros, 3.5 million records where employers used the same social security number for multiple workers, and 1.4 million records with social security numbers that had never been issued by social security. The top two industries where these problems appeared were restaurants and construction. Employers have a big incentive to report earnings and withhold taxes, but practically no reason to verify the correctness of social security numbers. While it is clearly true that many illegals work in construction, where is the evidence they aren't counted on payrolls?
Second, if they aren't counted on payrolls now, they also weren't counted on payrolls in the past.

Peter Hooper:
I think it is a reasonable point that some of these illegals are captured in the payrolls. As we note in our report, the net upward revision of more than 200,000 for construction workers over the past five to six years is consistent with the likelihood that some of them were being captured in the QCEW [Quarterly Census of Employment and Wages]. But there are other reasons to think that the payrolls are still missing a big chunk. Payrolls show 150,000 job losses in residential construction from the peak and virtually no net losses in overall construction. Unpublished data from the household survey indicate that 300,000 Hispanic construction workers have lost jobs since the peak, so either the payrolls are missing something, or a lot of non-Hispanics are being hired to take their places. But why would there be hiring in residential construction with the level of construction activity down 25% over the past six quarters? We worked through the other possible explanations, and still come up with a major puzzle, which leads us to believe that the PEW's estimates don't look too bad. And I think we establish room for undocumented workers to have been hired on the way up as well as fired on the way down.

Douglas Lee:
There is no question about the payroll survey mystery, but I remain skeptical that illegals are the bulk of the explanation.
I'll put in my vote with Calculated Risk:
I think the answer will be a combination of these explanations.
---
Technorati Tags: macroeconomics,
employment,
housing,
construction employment