Here are some brief impressions about this morning's papers at the Federal Reserve conference.
First up was "The Housing Finance Revolution" by George Washington University Professor Richard Green and Wharton Professor Susan Wachter. One of the interesting points made by this paper is that although there are important differences across countries in how mortgage finance has changed recently, there are some dominant trends that are unmistakably global. The 8% average annual growth in U.S. mortgage debt between 1992 and 2002 seems actually modest compared to many other countries:
Average annual growth rate of mortgage debt. Source: Green and Wachter (2007).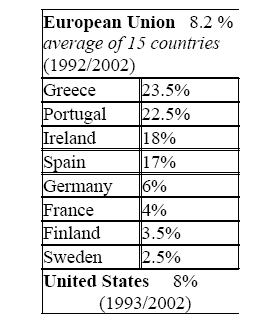 Rising real estate prices and declining interest were also very much a global development, as indicated by these global averages from the paper:
Global average interest rate and house price index. Source: Green and Wachter (2007).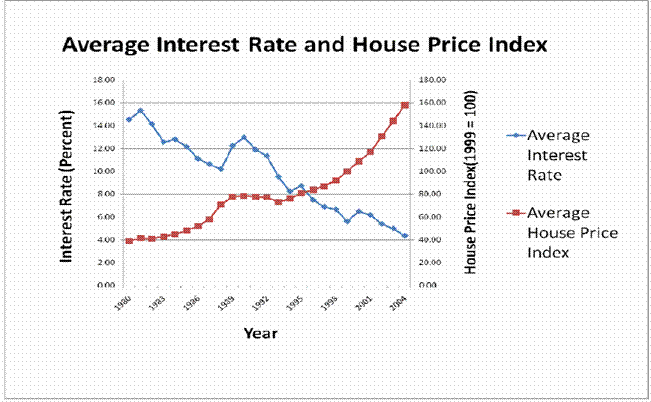 Green and Wacther then asked whether the mortgage finance revolution would now be followed by a reign of terror, delving into the origins of current problems with subprime mortgages. The authors write:
The behavior of investors with respect to subprime mortgages is puzzling, to say the least. Mortgage originators had powerful incentives to originate loans, regardless of quality: every mortgage that was successfully originated and sold to an investor produced a fee for the originator. While companies that originated the loan, such as New Century, could give representations and warrantees to investors that loans met some minimum standard, they were not well enough capitalized to make good on any promises in the event of large-scale default. It is difficult to understand why this was not clear to investors ex ante.

The second puzzle is that investors and rating agencies appeared to believe that diversification per se could cause systemic risk to disappear. It is of course the case that as a security becomes more diversified, unsystematic risk will get smaller, but mortgages with ten percent default probabilities will continue to carry such probabilities, regardless of the securities in which they are packaged….

The third puzzle is investors' seeming lack of understanding about housing market risk.
I agree very much with Green and Wachter that these are the key questions to be asking, and will offer some further thoughts about them tomorrow.
The authors of the second and third papers of this morning's session, Yale Professor Robert Shiller and UCLA's Ed Leamer both struck fiercely iconoclastic tones. Shiller's basic answer to the Green-Wachter puzzles is as follows:
…a significant factor in this boom was a widespread perception that houses are a great investment, and the boom psychology that helped spread such thinking. In arguing this, I will make some reliance on the emerging field of behavioral economics. This field has appeared in the last two decades as a reaction against the strong prejudice in the academic profession against those who interpret price behavior as having a psychological component….

These principles of psychology include psychological framing, representativeness heuristic, social learning, collective consciousness, attention anomalies, gambling anomalies such as myopic loss aversion, emotional contagion, and sensation seeking.
One thing I have never understood is the source of Shiller's confidence that he is able to rise above these cognitive pitfalls in a way that market participants can not. Nor does his quantitative evidence help me to understand his position any more clearly. He notes for example a 1988 survey which found that the median new homebuyer in Los Angeles expected 11% price appreciation over the next 12 months, whereas the median buyer in Milwaukee expected only 5%. Since the OFHEO house price index shows a 13.9% appreciation for Los Angeles and a 6.2% appreciation for Milwaukee during 1989, it's hard for me to see how these survey results are supposed to convince us of people's lack of rationality. I also am unsure how Shiller's concept of real estate price bubbles in "superstar" cities is to be reconciled with the fact that the problems with mortgage defaults initially proved to be most serious in rustbelt areas where there had been very little real estate price inflation.
Leamer was likewise proud to flash his credentials as an iconoclastic outsider, declaring "the good news is that I am not a macro-economist". His evidence was mainly derived from nonparametric kernel regressions of a variable on a time trend to identify its "normal" contribution to output, and then accumulating deviations from "normal" to generate a "cumulative abnormal contribution" such as depicted in the diagram below:
Source: Leamer (2007).
This kernel regression basically defines the "normal" value for date t as a weighted average of observed values before and after date t, with an observation getting a smaller weight the farther it is removed in time from date t. It's thus just a two-sided moving average filter. I welcome Leamer's effort to throw in a creative alternative to the popular Hodrick-Prescott filter, though Leamer's method suffers from the same problem as the Hodrick-Prescott filter, in that it will introduce temporal patterns into a series such as a random walk that originally had none. I think there is a great advantage in trying to summarize the data using statements about the forecastability of the series. Two-sided filters such as Leamer's necessarily make these questions of forecastability more obscure.
Notwithstanding, I found another of Leamer's main themes to be an intriguing suggestion. He claims we should think of monetary policy as doing very little about the long-run growth rate (which he thinks will be within 3% of a 3% annual growth line regardless of policy), and that stimulating the housing market therefore just changes the timing. Specifically, Leamer believes we bought ourselves a boom in 2004-2006 at the expense of a recession in 2007-2008.
Tomorrow I get the chance to put in my own two cents.
---
Technorati Tags: macroeconomics,
housing,
Federal Reserve,
interest rates,
economics