Also featured yesterday at the Federal Reserve conference in Jackson Hole were speeches by Fed Chair Ben Bernanke and former Fed Governor Edward Gramlich.
View from my room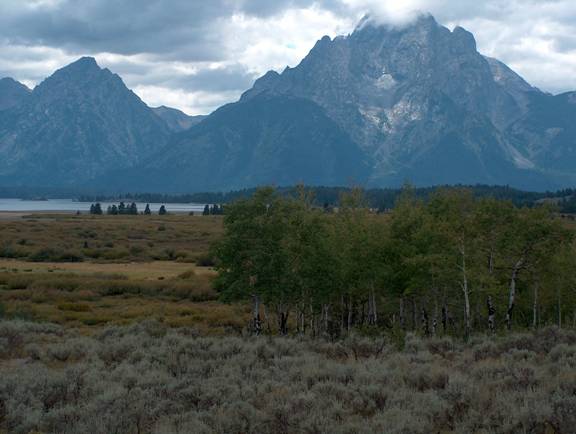 Bernanke expressed concerns that the housing situation is going to get worse before it gets better, in part because
Despite the slowdown in construction, the stock of unsold new homes remains quite elevated relative to sales, suggesting that further declines in homebuilding are likely.
In addition, the Fed Chair observed,
recent market developments have resulted in additional tightening of rates and terms for nonprime borrowers as well as for potential borrowers through "jumbo" mortgages. Obviously, if current conditions persist in mortgage markets, the demand for homes could weaken further, with possible implications for the broader economy.
Bernanke also reiterated what I think is exactly the correct Fed attitude about all this:
It is not the responsibility of the Federal Reserve–nor would it be appropriate–to protect lenders and investors from the consequences of their financial decisions. But developments in financial markets can have broad economic effects felt by many outside the markets, and the Federal Reserve must take those effects into account when determining policy.
Bernanke does not intend to "bail out" anybody, but has no desire to see the rest of us go down with the subprime ship.
Some analysts, as always, wanted to read between the lines and interpret this as code for the Fed positioning itself for a rate cut. I continue to advocate interpreting Bernanke as a straight shooter who is openly sharing his understanding and concerns. His statement– which I highly recommend in its entirety– is I believe as accurate an analysis of the current problems as you will find anywhere. But an accurate analysis does I think lead one to tend toward a rate cut, and I continue to expect that we'll see one.
I was also very interested in Bernanke's current views on how well the financial innovations in mortgage lending have been fairing:
I suggested earlier that the mortgage market has become more like the frictionless financial market of the textbook, with fewer institutional or regulatory barriers to efficient operation. In one important respect, however, that characterization is not entirely accurate. A key function of efficient capital markets is to overcome problems of information and incentives in the extension of credit. The traditional model of mortgage markets, based on portfolio lending, solved these problems in a straightforward way: Because banks and thrifts kept the loans they made on their own books, they had strong incentives to underwrite carefully and to invest in gathering information about borrowers and communities. In contrast, when most loans are securitized and originators have little financial or reputational capital at risk, the danger exists that the originators of loans will be less diligent. In securitization markets, therefore, monitoring the originators and ensuring that they have incentives to make good loans is critical. I have argued elsewhere that, in some cases, the failure of investors to provide adequate oversight of originators and to ensure that originators' incentives were properly aligned was a major cause of the problems that we see today in the subprime mortgage market.
But Bernanke again seemed to express the view that these problems will prove to be self-correcting:
In recent months we have seen a reassessment of the problems of maintaining adequate monitoring and incentives in the lending process, with investors insisting on tighter underwriting standards and some large lenders pulling back from the use of brokers and other agents. We will not return to the days in which all mortgage lending was portfolio lending, but clearly the originate-to-distribute model will be modified–is already being modified–to provide stronger protection for investors and better incentives for originators to underwrite prudently.
Edward Gramlich was unable to attend the conference due to very grave illness, but his comments were presented by his (and my) long-time friend David Wilcox, one of the Fed's star research economists. Gramlich drew an analogy between the subprime situation and previous boom-bust cycles arising from previous technological innovations:
In the nineteenth century the United States benefited from the canal boom, the railroad boom, the minerals boom, and a financial boom, a postwar boom, and a dotcom boom.

The details differ, but each of these cases feature initial discoveries or breakthroughs, widespread adoption, widespread investment, and then a collapse where prices cannot keep up and many investors lose a lot of money. When the dust clears there is financial carnage, many investors learning to be more careful next time, but there are often the fruits of the boom still around to benefit productivity. The canals and railroads are still there and functional, the minerals are discovered and in use, the financial innovations stay, and we still have the internet and all its capabilities.
Gramlich wants the see substantial promise still in the expansion of mortgage debt to a class of borrowers for whom it was previously unavailable. He attributes the good parts of the boom to elimination of usury laws, automation and securitization of loans, and the Community Reinvestment Act, which encouraged banks to issue moderate-income mortgages, which they then discovered to be good business.
He acknowledges that, as in his other technological booms, there were excesses here, and suggests a combination of Fed loosening of interest rates and regulatory reforms to help correct some of these problems, among these being supervision of all loan originators, expansion of predatory lending statutes, and greater funding for community resource groups to help troubled borrowers work out their problems, or, at worst, buy the foreclosed properties and convert to rental units.
It's nice to hear from someone with such constructive optimism about our current situation. But I think we need a little more hard-nosed analysis of exactly what went wrong before we get further into the details of what needs to be done to fix things.
---
Technorati Tags: Federal Reserve,
Bernanke,
macroeconomics,
housing,
subprime