What are the respective contributions of national and local factors to recent changes in house prices?
One of the striking features of home price data on which we've often commented is the fact that real estate prices during the boom rose much more dramatically in some communities than in others.
Percent change in house price index for five years ending 2005:Q1. Data source:
OFHEO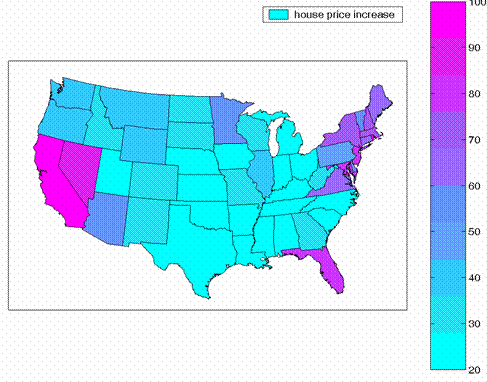 A new research paper by Federal Reserve Bank of New York researcher Marco Del Negro
and University of Virginia Professor Christopher Otrok that just came out in the Journal of Monetary Economics looks at a statistical decomposition of quarterly state-level house prices over 1986-2005 into three components, corresponding to national-, regional-, and state-level factors. Although there is a single national factor in their framework, each state is allowed to respond to that common national factor with a different parameter. They find that such a framework would attribute a huge influence to the national factor over the 2001-2005 subsample. Even though prices were going up at very different rates in different communities, Del Negro and Otrok would have us think of the increases over this period as having a single, national cause.
Vertical bars correspond to distinct states. The height of the black bar records the average increase in house prices for that state over the 2001-2005 period. The height of the red bar reports the part of that state's price appreciation over 2001-2005 that can be attributed to the national factor combined with the 1986-2005 average for that state. Source: Del Negro and Otrok (2007).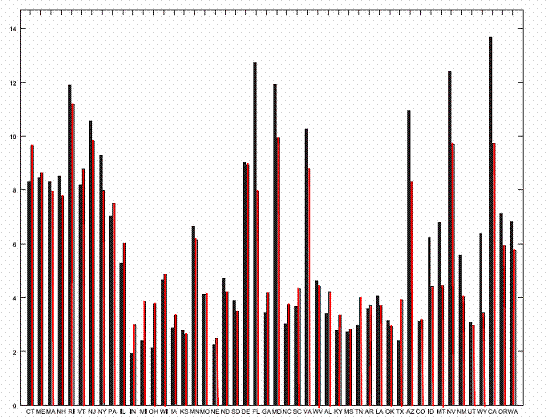 Del Negro and Otrok then investigate what observable macroeconomic variables could account for this national factor, and find only a limited role for monetary policy.
As I've observed previously, it's awkward for me to think of this "national factor" as a self-fulfilling speculative price bubble in which each community for some arbitrary reason was responding to a national phenomenon in its own peculiar way. My interpretation is that it instead represents a national laxity of lending standards. Funds were available fairly uniformly across different communities, but stimulated different price responses in different communities owing to different local conditions for housing supply and demand.
And now the fun question is whether we will have an opportunity to update the figure above with a matching set of negative numbers.
---
Technorati Tags: macroeconomics,
housing,
bubble,
economics,
Federal Reserve