Where's that large, unprecedented buildup of oil supply when you really need it?
By drilling additional wells, one might expect to increase the annual flow of production from a given oil field. This strategy usually proves quite successful in the initial phase of development of a newly discovered reservoir. However, as more oil is removed, less remains in the original deposit and it becomes increasingly difficult to continue to extract oil at the same rate. For this reason, the production profile from a given oil field inevitably exhibits a pattern of initial increase and eventual decline.
For example, production from Prudhoe Bay in Alaska peaked in 1988, and has declined at an average (logarithmically compounded) annual rate of 8.5% per year since then.
Collecting the 21 biggest fields in Texas as a group, production peaked in 1974-5, and has declined on average 7.5% per year since.
Annual oil production (in thousand barrels per day) from 21 fields in Texas. Source: Dave
Cohen.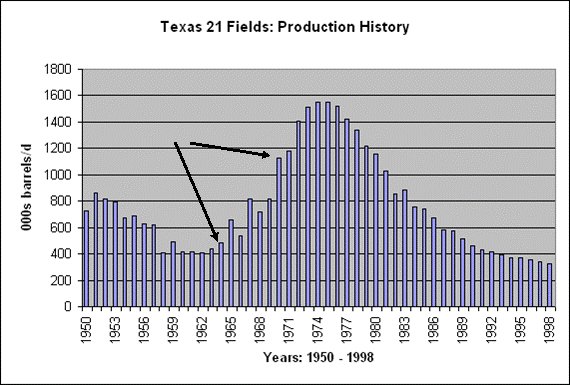 Production from Daqing, China's biggest oil field, has been falling 2.2% per year since 1995.
At any given point in time, some fields would be exhibiting increasing production, others would be at plateau, while yet others would be in decline. Total global production in a given year will increase provided that production gains from the first group exceed the declines from the last category. Discovery and development of major new oil fields is the key requirement for increasing global oil production each year.
Chevron in 2005 reported an average production decline rate on its existing fields of 4% annually. If that same rate applies to the current 85 million b/d global production, we would need to find 3.4 million barrels per day in production from new fields every year– twice the annual flow from Prudhoe Bay at its peak– in order to keep global production from declining.
The last few years we have seen substantial production gains from a number of impressive new fields. For example, Angola's Dalia field has been producing 250,000 barrels per day since March, and Azerbaijan's Chirag and Azeri fields produced 700,000 b/d for the first half of this year, compared with 300,000 b/d three years ago.
And yet, despite these many promising developments, global production has stagnated.
Stuart Staniford and Khebab discuss what this tells us in separate posts today over at the Oil Drum.
Stuart
estimates the annual growth rate of world oil production four different ways, using the data reported separately by the International Energy Agency, the Oil and Gas Journal, and two separate measures from the U.S. Energy Information Administration. Stuart summarizes the average annual production growth rates from the four series in the gray line in the diagram below. The increase in production capacity from major new oil fields that went into production in the indicated year is summarized by the red line.
If indeed we had about 3.2 million b/d in production from the new fields in 2007, as the red line might suggest, and yet global production failed to increase, as so far appears to be the case, then a 4% average decline rate could be about right. I'm reluctant to follow Stuart and Khebab in the subsequent step of concluding that the global decline rate has increased sharply just in the last few years. I expect that slippage (projects coming on line more slowly than originally anticipated) may yet prove to be part of the explanation. And divining just what is going on in Saudi Arabia, which figures prominently in both the major new projects and decline in existing production calculations, would seem to be the key ingredient for understanding the phenomenon identified by Stuart and Khebab. But in any case, these data reinforce the conclusion that just keeping up with the depletion from existing fields may be harder than it looks, and suggest that extrapolation of Chevron's 4% decline rate to average global production might not be so far off the mark.
And how much would any of this change if we include last week's news out of Brazil? Petrobas just announced that its Tupi oil field may contain up to 8 billion barrels of oil and could begin producing 100,000 barrels per day in three to four years.
Let me help you with the math– the entire 8 billion barrels, if it indeed proves to be there, would be 1/4 of the world's annual consumption.
---
Technorati Tags: oil,
oil prices,
oil depletion,
oil supply,
energy economics,
economics,
peak oil