It was a fun day to be a macroeconomist, don't you think?
The Wall Street Journal has created a cute interactive graphic that allows you to watch the carnage in international equity markets– Australia down 2.9% Monday and another 7.3% Tuesday, China down 4.8% Monday and another 7.7% Tuesday, and so on– as the economic fears marched around the globe, and arrived at the doorstep of the United States Federal Reserve this morning. What the U.S. market might have done had the Fed not dropped its target interest rate 75 basis points before markets could open we will never know.
The data thus come to us a little contaminated this time, since U.S. markets today were responding both to the earlier international developments as well as the news from the Fed. Still, it's interesting to take a look at where things stood here once the dust all settled.
The 10-year nominal Treasury yield fell 15 basis points, suggesting that investors see the Fed lowering even more, economic growth declining, and still no worries of resurging inflation. The latter in particular will encourage the Fed to go further– I think the Fed will continue to cut as long as prospects for real economic activity look so bleak and there remains no sign of life at the long end of the yield curve. Which, if you're serious about the adage "don't try to fight the Fed," suggests to me that you're better off at this point putting your money into TIPS rather than standard long-term Treasuries.
Declining long-term yields reflect two forces pulling stocks in opposite directions. Lower yields on bonds make the discounted present value of a given flow of future earnings higher, a factor that by itself should boost stock prices. But the growing recognition of dismal real economic activity of course means those future earnings aren't going to be as rosy as some people thought last Friday, driving stocks down. In the event, U.S. stocks were down about 1%– not bad, considering.
All of which invites the question, What's left for the Fed to do at their regular meeting still scheduled for next week? Futures market participants, whom we left on Friday in the belief that a 75-basis-point cut by the end of January was more likely than a 50-basis-point cut, roared out of the box today, bidding the February fed funds futures contract up to 96.95, implying an expected fed funds rate of 3.05%. That sounds like an additional 50-basis-point cut at the meeting coming up next week, or, if not, a good chance of another intermeeting move in February.
Expected average fed funds rate for February, calculated from 100 minus the daily closing price of the CBOT February fed funds futures contract. Data source: TFC.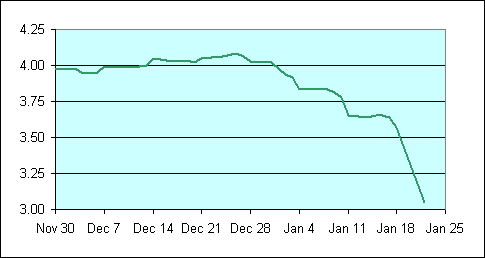 So now I guess we have an idea what Bernanke meant when he said
we stand ready to take substantive additional action as needed to support growth and to provide adequate insurance against downside risks.
---
Technorati Tags: macroeconomics,
economics,
Federal Reserve,
subprime,
interest rates,
fed funds rate,
fed funds futures,
Bernanke,
recession