Was 25, now we have 50. Do I hear 75?
In a widely noted speech, Federal Reserve Chair Ben Bernanke on Thursday described the source of his current concerns about economic and financial stability:
Although poor underwriting and, in some cases, fraud and abusive practices contributed to the high rates of delinquency that we are now seeing in the subprime ARM [adjustable rate mortgage] market, the more fundamental reason for the sharp deterioration in credit quality was the flawed premise on which much subprime ARM lending was based: that house prices would continue to rise rapidly. When house prices were increasing at double-digit rates, subprime ARM borrowers were able to build equity in their homes during the period in which they paid a (relatively) low introductory (or "teaser") rate on their mortgages. Once sufficient equity had been accumulated, borrowers were often able to refinance, avoiding the increased payments associated with the reset in the rate on the original mortgages. However, when declining affordability finally began to take its toll on the demand for homes and thus on house prices, borrowers could no longer rely on home-price appreciation to build equity; they were accordingly unable to refinance and found themselves locked into their subprime ARM contracts. Many of these borrowers found it difficult to make payments at even the introductory rate, much less at the higher post-adjustment rate. The result, as I have already noted, has been rising delinquencies and foreclosures, which will have adverse effects for communities and the broader economy as well as for the borrowers themselves….

Investors' loss of confidence was not restricted to securities related to subprime mortgages but extended to other key asset classes. Notably, the secondary market for private-label securities backed by prime jumbo mortgages has also contracted, and issuance of such securities has dwindled. Even though default rates on prime jumbo mortgages have remained very low, the experience with subprime mortgages has evidently made investors more sensitive to the risks associated with other housing-related assets as well. Other types of assets that have seen a cooling of investor interest include loans for commercial real estate projects and so-called leveraged loans, which are used to finance mergers and leveraged buyouts.
While Bernanke acknowledges that the premise behind the subprime teaser loans was flawed, he is not yet ready to say the same thing about other asset classes such as the prime jumbo loans. But surely the same assumptions about real estate price increases that figured into the willingness of borrowers and lenders to engage in the former were also a factor in the latter. And to the extent that unwise subprime lending was a factor driving real estate prices up, we're now going to see price declines, possibly quite large, that will surely affect default rates well outside of the subprime ARM teaser class.
The primary problem that Bernanke identifies as coming from this situation is that credit is now drying up for everybody:
Unfortunately, at this point, the market is not discriminating to any significant degree between good and bad nonprime loans, and few new loans are being made.
Bernanke then described what the Fed has done and plans to do further about this.
Although the TAF [term auction facility] and other liquidity-related actions appear to have had some positive effects, such measures alone cannot fully address fundamental concerns about credit quality and valuation, nor do these actions relax the balance sheet constraints on financial institutions. Hence, they cannot eliminate the financial restraints affecting the broader economy. Monetary policy (that is, the management of the short-term interest rate) is the Fed's best tool for pursuing our macroeconomic objectives, namely to promote maximum sustainable employment and price stability….

In light of recent changes in the outlook for and the risks to growth, additional policy easing may well be necessary. The Committee will, of course, be carefully evaluating incoming information bearing on the economic outlook. Based on that evaluation, and consistent with our dual mandate, we stand ready to take substantive additional action as needed to support growth and to provide adequate insurance against downside risks.
And just what would a "substantive" action look like? A week before Bernanke's speech, indications of a weakening economy had persuaded Fed funds futures traders that at the end-of-January FOMC meeting the Fed would cut at least 25 basis points from the current 4.25% target and more likely move down to 3.75%. But after Bernanke's remarks, the expected interest rate implied by the CBOT February contract has fallen to 3.65%, suggesting a significant chance of a cut all the way to 3.5%, or a 75-basis-point cut in a single meeting.
Expected average fed funds rate for February, calculated from 100 minus the daily closing price of the CBOT February fed funds futures contract. Data source: TFC.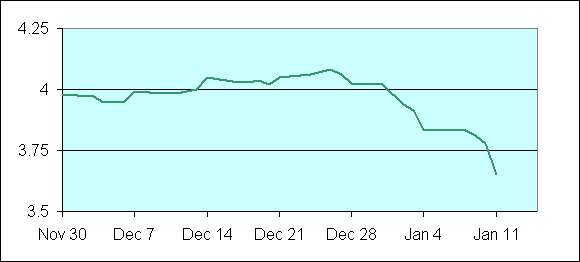 The Federal Reserve Bank of Cleveland's calculation of the probabilities of different meeting outcomes based on option rather than futures prices gives the same answer:
Probability of indicated decision for the fed funds target rate reached at the January 29/30 FOMC meeting as implied by prices of February fed funds options. Source: Federal Reserve Bank of Cleveland.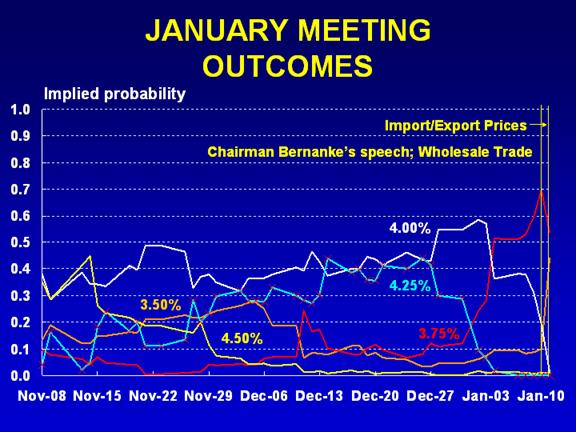 I'd be surprised if the Fed does go all the way to 3.5% in a single step. But if it does, let me repeat my caution that this cannot be something that equity markets should cheer. Although Bernanke's speech describes the problems in calm and objective detail, if he's actually contemplating a 75-basis-point cut, he has to be worried. Very worried.
---
Technorati Tags: macroeconomics,
economics,
Federal Reserve,
subprime,
interest rates,
fed funds rate,
fed funds futures,
Bernanke