Some analysts are saying that Fed Chair Ben Bernanke is walking a tightrope– if he does not drop interest rates quickly enough, the U.S. will be in recession, but if he goes too far, we'll see a resurgence of inflation. I am increasingly persuaded that's not an accurate description of the situation.
We've seen some quite remarkable movements in commodity markets the last two months. The graph below plots the price of 14 that I could get my hands on quickly through Webstract, with each price normalized at 100 for January 1. Every single one of these prices has risen dramatically since then. The most tame among the group has been zinc, which is up a mere 6.5% over the last two months, or 39% at an annual rate. Topping the group is wheat, up 46% over two months; I won't try to translate that one into an annual inflation rate because I don't want to scare you.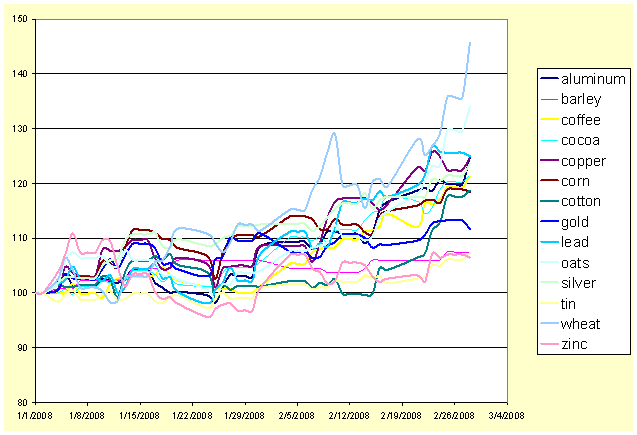 When Bernanke opined yesterday,
diminishing pressure on resources is also consistent with the projected slowing in inflation,
he evidently wasn't referring to aluminum or barley or coffee or cocoa or copper or corn or cotton or gold or lead or oats or silver or tin or wheat or zinc.
If it were just a few commodities moving, I wouldn't be concerned, as any of these prices can be quite sensitive to small disruptions in supply. But we are clearly looking at an aggregate phenomenon here, and it seems unreasonable to suppose that the phenomenon has nothing to do with choices by the Fed. Although I have been skeptical of Jeff Frankel's story that low interest rates were the primary cause of the broad movements in commodity prices over the last several years, it is very plausible to me as one explanation of what we've seen happen over the last two months.
Bernanke's latest statement also included the following:
The projections recently submitted by FOMC participants indicate that overall PCE inflation was expected to moderate significantly in 2008, to between 2.1 percent and 2.4 percent (the central tendency of the projections). A key assumption underlying those projections was that energy and food prices would begin to flatten out, as was implied by quotes on futures markets.
Now it is true that if you look at the time profile of futures contracts on these commodities, you don't see an upward slope, a fact in which Bernanke has taken solace on a number of previous occasions as well. But even if there is no further increase in the price of wheat, surely it's reasonable to anticipate increases yet to come in the price of bread and Wheaties and pasta.
I think part of the basis for Bernanke's optimism on inflation must be the dourness of his outlook for real economic activity. The basic macroeconomic framework in Bernanke's textbook suggests that, for given inflation expectations, if output falls below the "full-employment" level, inflation should go down, not up.
But what exactly does the theoretical full-employment level of output correspond to in the present situation? There are fundamental problems with credit markets at the moment, and these arise not from a nominal interest rate or wage rate that are too high (the usual textbook suspects), but instead from a real disruption in the basic process of financial intermediation, as if somebody had dropped a bomb on our financial system, preventing it from efficiently allocating credit. To the extent that's the case, it may be that "full-employment GDP" would actually decline this year, and an effort to use a monetary expansion to prevent that would indeed be inflationary.
Of course, a serious problem in the market for credit is another area with which Bernanke the academic is quite familiar. But as I explained when I had an opportunity to address the Fed governors and presidents last fall, fiddling with the level of the fed funds rate is not a particularly efficacious tool for dealing with this problem. I'm not saying it's of no help. But I think the primary way in which monetary expansion could help alleviate the current credit problems was described by Brad DeLong with remarkable clinical coolness:

Yes, the financial system is insolvent, but it has nominal liabilities and either it or its borrowers have some real assets. Print enough money and boost the price level enough, and the insolvency problem goes away without the risks entailed by putting the government in the investment and commercial banking business.
The monetary cure for our ails of course also has a downside, in that we'll later need an artificial recession to bring the inflation back down. Greg Mankiw notes Allan Meltzer's displeasure at this prospect:
A country that will not accept the possibility of a small recession will end up having a big one when the politicians at last respond to the public's complaints about inflation.
I agree with Meltzer that the recent Fed rate cuts are buying us higher output at the moment at the cost of lower output in the future, for just the reason Meltzer gives. But I disagree that the recession Bernanke is trying to avoid would be a "small" one. The Fed chief must be worried that a recession in the present instance would precipitate major financial instability, in which case perhaps the choice between paying now and paying later argues in favor of latter.
In any case, the tightrope analogy seems a misleading way to frame the issue, in that it presupposes that there exists a choice for the fed funds rate that would somehow contain both the solvency and the inflation problems. In my opinion, there is no such ideal target rate, and the notion that we can address the difficulties with a sagely chosen combination of monetary and fiscal stimulus and regulatory workout is in my mind doing more harm than good. Better for everyone to admit up front just how bad the problem is, and acknowledge that there is no cheap way out.
No, I don't believe that Bernanke is walking a tightrope at all. But I do hope he's checked out the net that's supposed to catch him if he falls.
---
Technorati Tags: macroeconomics,
Federal Reserve,
economics,
inflation,
Bernanke,
stagflation,
commodity prices