The Bureau of Economic Analysis reported today that U.S. real GDP fell at a 0.3% annual rate in the third quarter of 2008. That's the second quarter of negative real GDP growth out of the last four, and puts the cumulative annual growth since 2007:Q3 at an anemic 0.8%.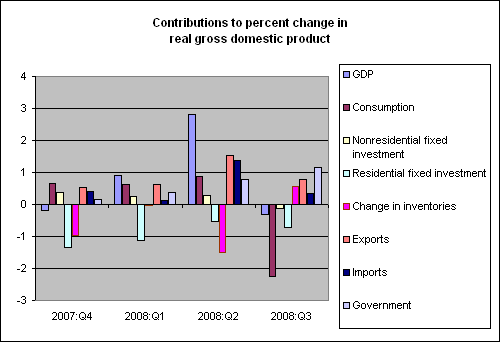 As expected, the most important factor was the 3.1% drop in real personal consumption expenditures during 2008:Q3. Given that consumption accounts for 70% of U.S. GDP, that by itself would have produced a -2.25% growth rate for real GDP if all the other components of GDP had held constant. Plumeting consumer confidence [1], [2], the end of mortgage equity withdrawal and a worsening employment situation were presumably responsible for the fall in consumption spending. Housing continued to be a drag on the economy– what else is new?– contributing -0.7% to the total GDP growth rate. Nonresidential fixed investment, which is key both for a cyclical recovery as well as longer run growth, fell slightly in the third quarter. Growth in exports and a fall in imports made a positive contribution, as did strong increases in government spending, which together kept the GDP total from being far more disappointing. But a weakening global economy and strained budgets for state governments make me doubt that we'll see as strong numbers for exports and government spending in the fourth quarter.
The weak GDP report also led to a further increase in our recession indicator index, which now stands at 46.1% for 2008:Q2. This is an assessment based on a simple pattern-recognition algorithm of whether the GDP data available so far (through 2008:Q3) are more consistent with the statement that the economy in 2008:Q2 was in recession or expansion. The current value of 46.1% means you could easily call it either way, based on the conflicting evidence that the 2008:Q2 growth by itself looks reasonably healthy (+2.8%), but was preceded and followed by much weaker reports. As detailed in my paper written in 2005 with Marcelle Chauvet, we will declare that a recession has begun when the index moves above 67%. At that time we will use the full sample of data that is available at that time to assign a probable date to the beginning of the recession, based on the value of the revised full-sample index available at that time. My current expectation is that we'll issue such a declaration when the 2008:Q4 GDP numbers are reported, and date the beginning of the recession as 2007:Q4.
The plotted value for each date is based solely on information as it would have been publicly available and reported as of one quarter after the indicated date. Shaded regions represent dates of NBER recessions, which were not used in any way in constructing the index, and which were sometimes not reported until two years after the date.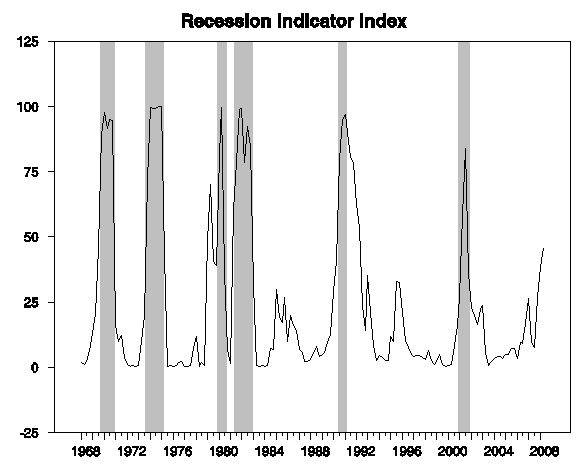 ---
Technorati Tags: GDP,
recession probability,
recession indicator index,
macroeconomics,
economics