Here I relate some interesting new research on how to update economic forecasts with incoming daily data and the latest assessment of where things stand in Europe.
I've spent the last week visiting the European Central Bank in Frankfurt and Eurostat in Luxembourg. Europe is becoming a very exciting area for business cycle research, with a lot of bright and energetic people studying the nature of the new economic interactions among the European nations. One of the most interesting papers at the Eurostat conference I attended was by Gabriel Perez-Quiros, my former student who is now a well-known researcher at the Bank of Spain, and Maximo Camacho, one of Gabriel's former students (which makes Maximo my grandchild, Gabriel says) who is now at the University of Murcia.
Camacho and Perez-Quiros's paper sets out a state-space representation of the various data that arrive (or fail to arrive) during a given month and how they relate to an unobserved latent variable of interest such as a monthly factor driving euro-area GDP. Given a presumed structure of how each observed variable is related to the unobserved factor, Camacho and Perez-Quiros can then calculate the optimal forecast of quarterly GDP based on any arbitrary subset of the variables, such as the subset that is known as of some day d within a given month.
Source: Eurostat presentation by Gabriel Perez-Quiros.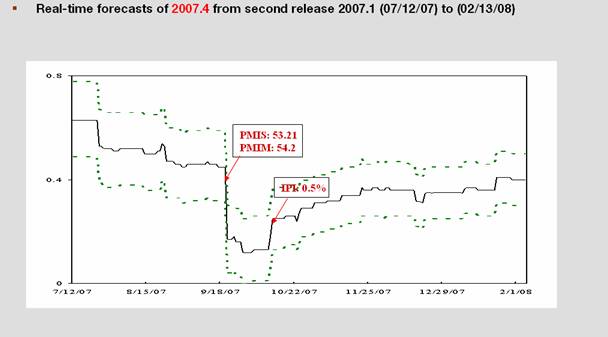 The figure above illustrates how the procedure works in practice. The graph plots what the model expected the growth rate for euro-area real GDP for 2007:Q4 (quoted at a quarterly rate) as new information arrived during the second half of 2007 and beginning of 2008. The most important single piece of news was a bearish euro area purchasing managers index released in September. That signal was partly reversed by a more favorable number for the euro-area industrial production index the next month.
And what does their model say at the moment? It's pretty confident we're going to see negative real GDP growth for Europe for 2008:Q3.
They've also explored a version of their model with business-cycle phase shifts, along the lines of the multivariate model described in my paper with Marcelle Chauvet, a univariate GDP-based version of which forms the basis for our Econbrowser recession indicator index. Camacho and Perez-Quiros's model seems to send a clear signal that Europe began its current "growth recession" over a year ago:
Source: Eurostat presentation by Gabriel Perez-Quiros.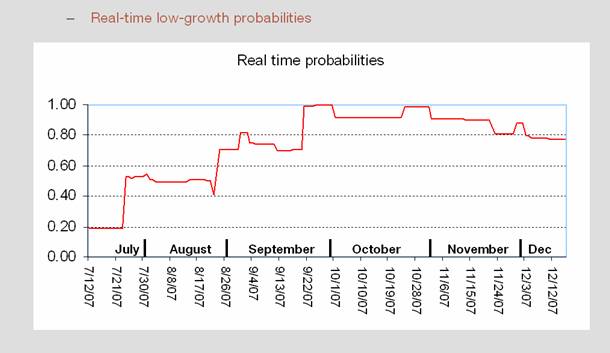 ---
Technorati Tags: GDP,
European economy,
euro area GDP,
recession,
macroeconomics,
economics