Greg Mankiw notes some odd behavior this week in the values reported by the U.S. Treasury for the yields on constant-maturity Treasury Inflation Protected Securities.
In normal times when investors anticipate positive inflation, the yield on nominal Treasuries should exceed that on TIPS, since both coupon and principal on TIPS grow with the CPI. That normal state of things was dramatically reversed over the last month, when the 5-year TIPS came to pay 200 basis points more than the 5-year nominal Treasury. But on Monday, the TIPS yield fell 214 basis points, while the nominal yield was down only 22 basis points, leaving the TIPS yield only slightly above the nominal.
Reported yields on nominal and inflation-protected 5-year Treasury securities. Data source:
FRED [1], [2], and U.S. Treasury [1], [2].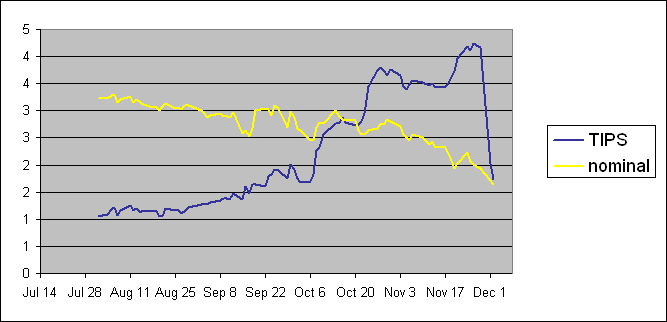 Here is Greg's interpretation:
That is a huge change over only a few days. What happened? It appears to be, in large measure, a figment of data construction.

Here is how
the data are made:

Real yields on Treasury TIPS (Treasury Inflation Protected Securities) at "constant maturity" are interpolated by the U.S. Treasury from Treasury's daily real yield curve. These real market yields are calculated from composites of secondary market quotations obtained by the Federal Reserve Bank of New York.

And this is what you find in the footnotes:

Starting 12/01/2008, the TIPS yield curve will use on-the-run TIPS as knot points rather than all securities under 20 years.

Why such a large difference between on-the-run (new) vs off-the-run (old) bonds, and why did the issue only arise now? I am not sure, and the Treasury website does not explain, but here is a guess.

TIPS offer asymmetric inflation-protection. If the price level rises, your principal rises as well. But if the price level goes down, you get your initial nominal principal back. (Don't believe me? Click here.) A new TIPS bond is great when there is risk of deflation. It is a real bond if prices go up, but more like a nominal bond if prices go down. Heads you win, tails you win also.

An older TIPS bond, however, is not as attractive. A lot of price inflation is already built into the adjusted principal. All of that inflation has to be undone by subsequent deflation before the nominal floor on the principal kicks in. As a result, when there is risk of deflation, the older bond has to offer a higher yield to compete with a newer one.

In other words, after a period of inflation, an older TIPS is closer to a true real bond, whereas a new TIPS is an attractive hybrid. This fact could explain the large jump down in the inferred real interest rate when the Treasury changed the raw bond data it uses. And it can explain why the issue became significant only recently, as people have started to seriously worry about deflation, inducing Treasury to change its calculations.

One implication of this hypothesis is that the real interest rate now reported is not a true real interest rate but is infected by the hybrid nature of these bonds. Yields on older off-the-run bonds may be more meaningful.

Of course, my conjecture could be completely wrong, as this is not my specific area of expertise. Another possibility is that the difference between these bonds instead has to do with changing liquidity premia. But one thing I am sure of: It is best to be wary of data from the TIPS market.
In support of Greg's first conjecture, the 5-year 2011 TIPS and 10-year 2012
TIPS showed the 10-20-basis-point drop of the nominals rather than the 200-basis-point drop of the Treasury's 5-year constant maturity on Monday.
I note that this interpretation would imply that although the spread cannot itself be viewed as the actual expected inflation or deflation rate, its moves over the last month are attributable to concerns about a fall in the price level. On the other hand, Jeff Hallman speculates that another factor in the recent anomalous behavior of the TIPS yields may have to do with whether they are accepted as collateral for certain transactions.
Any additional insights from our readers would be most welcome.
---
Technorati Tags: macroeconomics,
,
inflation expectations,
economics,
deflation,
TIPS yields