We're pleased today to feature a guest contribution to Econbrowser from Kash Mansori, senior economist for Jefferson Wells International.







Will a Home Purchase Tax Credit Help Boost House Prices?

by Kash Mansori



Boosting house prices across the country is the stated goal of the big tax credits to home buyers (some are talking about $15,000) that are being considered as part of the economic stimulus package currently stuck in the Senate. But after thinking through the economics of the situation for a minute, I think it quite likely that such a tax credit might have very little impact on the level of house prices in today's housing market.
A simple graphical analysis can help us think things through. The following picture shows a downward-sloping demand curve for house purchases (i.e. how many houses people are willing to buy in any particular month at any given price level), and upward-sloping supply curve of houses (i.e. how many houses are being offered on the market every month at any given price level).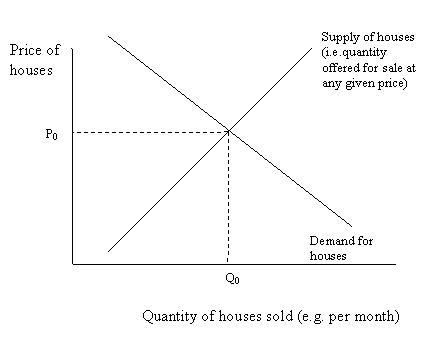 The picture above shows the situation at a point in time when the housing market was clearing in an uncomplicated way, supply was meeting demand, and everything was fine. (We should really be imagining a different picture for each regional or city-wide housing market — each of which, as I've pointed out many times in the past, should be considered quite distinct… Plus, there's a pretty complicated dynamic interplay between long-run and short-run supply curves in reality… But this analysis is simple enough that it can give you the general idea.)
Now let's have some fun, and mess up the clean picture above with a housing crash. In 2007 and 2008 we saw an end to easy credit for potential home buyers, combined with a fall in incomes of potential home buyers, possibly combined with an unquantifiable change in perceptions and attitude and willingness to shell out ridiculous sums of money for mediocre houses. These forces all meant a fall in the demand for houses.
The situation we've been living in over the past year or two is depicted in the next picture.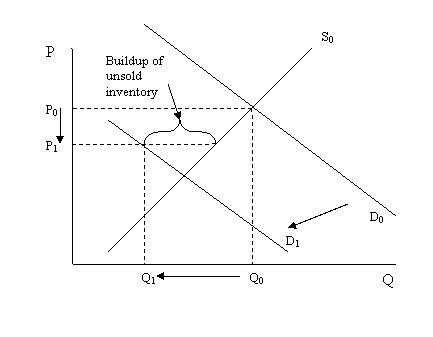 Demand has fallen way back. Prices have fallen somewhat, from P0 to P1, but they haven't fallen by enough to clear the market. (That would be where S0 meets D1, the new demand curve.) That's because sellers haven't fully adjusted their sales prices down to meet current market realities. As a result, only Q1 houses are actually purchased every month, and we have seen a substantial buildup in inventories of unsold houses. (Just take a look at Calculated Risk's monthly pictures of inventories of unsold houses
for an illustration; while inventories may not be rising much right now, we still have a tremendous overhang.)
Now enter the tax credit. What will that do to the situation? Essentially, it gives each potential homebuyer an extra $15,000 to spend on houses. That doesn't mean that they will necessarily buy a house that's $15,000 more expensive than they would have without the tax credit… but it does mean that they would be willing to pay almost $15,000 more for a house that they were already willing to buy. We can depict this as a vertical bump up in the demand for houses of $15,000. The last graph shows the result.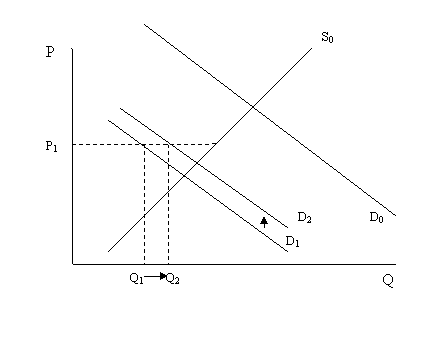 The demand curve shifts up by a bit ($15,000 to be precise) in the vertical direction, to D2. But chances are that this is not going to soak up all of the additional unsold inventory of houses – not unless we think that all it would have taken to prevent inventories of unsold houses from piling up in the first place was for sellers to just drop their asking price by $15,000. Myself, I have a suspicion that in most of the markets that are foundering right now many sellers still need to drop their sales price expectations by $50 thousand, $100 thousand, or more.
If my hunch is correct, then all the house purchase tax credit will do is to modestly increase the number of houses sold each month… with no noticeable impact on house prices.
That doesn't mean that the tax credit would have no impact. In particular, it may be a boon to some cash-constrained households that want to buy a house right now but can't borrow enough. And it should help to reduce inventories of unsold houses by a bit. But if you're hoping that it will make house prices rise, with all of the beneficial economic effects on home equity that such a rise might have… think again.