On Saturday I commented on whether
rising oil prices threaten the economic recovery. Here are some quick links to perspectives from other observers.
Bill McBride shares my conclusion that the recent rise in oil prices is not enough to cause a double-dip recession, though if vehicle miles driven continue to decline, he says that would make him more concerned.
New Deal Democrat links to a number of other analyses, including Steve Kopits' view that the U.S. runs into problems whenever our crude oil expenditures exceed 4% of GDP. Here is a graph I produced similar to Steve's. Eighty-five dollar oil is about the point at which the 4% threshold would again get crossed.
Oil expenditures as a percentage of GDP with U.S. recessions as shaded areas and dashed line drawn at 4%. Oil expenditures calculated as average monthly price of West Texas Intermediate (from FRED) times 365 times average daily petroleum product supplied to U.S. markets over the last 12 months (from EIA). Nominal GDP from quarterly BEA Table 1.1.5 interpolated to form a monthly series. Recession dates from NBER with the exception that current expansion (not yet declared by NBER) is shown here as beginning July 2009.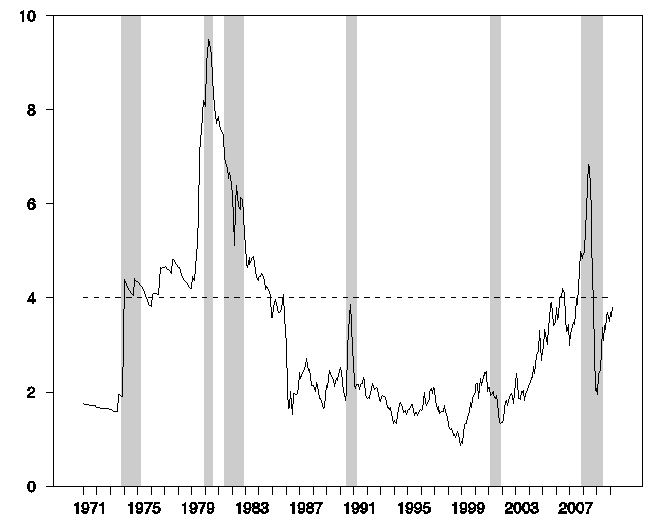 I've often looked instead at consumption expenditures on energy goods and services as a percentage of total personal consumption spending. Here is an update of that graph that includes the February data, which brought the share up to 5.9%.
Energy expenditures as a percentage of consumer spending. Calculated as 100 times nominal monthly consumption expenditures on energy goods and services divided by total personal consumption expenditures. Data source: BEA Table 2.3.5U. Blue line is drawn at 6.0%.


And it's always worth listening to what Tim Duy has to say. Tim's view is that despite oil prices and other worries, the economic recovery looks to him to be sustainable.