The Bureau of Economic Analysis reported today that U.S. real GDP grew at an annual rate of 3.2% during the fourth quarter of 2010. That's about the historically average growth rate. But we expect much better than average at this point in the cycle, and need much better than average to make real progress with the unemployment rate.
The latest GDP numbers bring our Econbrowser Recession Indicator Index for 2010:Q3 down to 5.3%. There's no question that we're in the expansion phase of the business cycle, and have been for some time, though it's only with this new report that the level of real GDP is back to making a new all-time high.
The plotted value for each date is based solely on information as it would have been publicly available and reported as of one quarter after the indicated date, with 2010:Q3 the last date shown on the graph. Shaded regions represent dates of NBER recessions, which were not used in any way in constructing the index, and which were sometimes not reported until two years after the date.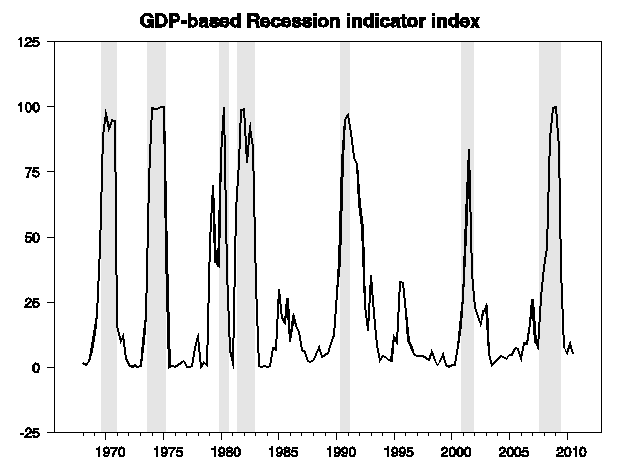 Consumption spending was strong in the fourth quarter, and could have generated essentially all the real GDP growth by itself. Exports added another 1%. Since imports are subtracted from GDP, the fourth-quarter decline in imports would have provided a further 2.4% boost to the reported GDP growth rate. Nonresidential fixed investment contributed 0.4%, almost entirely from equipment and software. And even housing made a slightly positive contribution.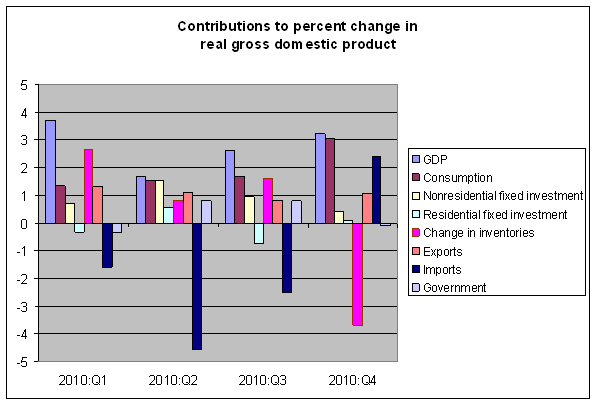 With all these strong positives, how did we end up with only 3.2% growth? The answer is that a huge estimated decline in inventories subtracted back out 3.7%. The extra spending by consumers and firms was much more than we produced domestically, and the difference represents goods sold out of inventory.
But the fact that a huge negative contribution of inventories coincided with a huge positive contribution of imports does not seem to be a coincidence. There's a clear pattern in the recent data that when one of these makes a positive contribution to GDP growth, the other makes an offsetting negative contribution. Although we often think of inventories as a substitute for production (you could either produce a good or sell it out of inventories), in the current environment inventories seem to act more as a substitute for imports (you could either import the good, or sell it out of inventories). So although inventories shouldn't be the same drag on GDP in 2011, I expect imports to go back up and exert a drag of their own.
Contribution to annualized real GDP growth of change in imports (black line) and change in inventories (red line), 2001:Q1-2010:Q4.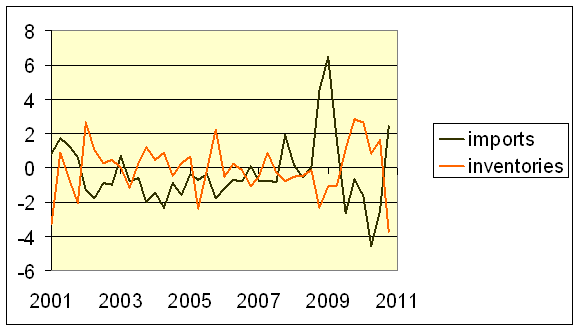 My bottom line: the recovery continues to gain momentum, but we still have a long, long way to go.