The Bureau of Economic Analysis reported today that U.S. real GDP grew at an annual rate of 1.8% during the first quarter of 2011. Not exactly what the doctor ordered for a still very sick patient.
If we were back to a tolerable unemployment rate, an annual GDP growth rate of 1.8% would be a little disappointing but not that unusual for an expansion. The problem is, growth this slow would often mean a rising unemployment rate, the last thing we need at the moment. Still, our Econbrowser Recession Indicator Index remains about where it was, with a reading of 5.2% for 2010:Q4, leaving no doubt that as of then, the economy had not yet entered a contraction phase of the business cycle. Note that we wait a quarter for data revisions and trend recognition before calculating the index, so it is always looking one quarter back from the most recent release.
Top panel: GDP-based recession indicator index. The plotted value for each date is based solely on information as it would have been publicly available and reported as of one quarter after the indicated date, with 2010:Q4 the last date shown on the graph. Shaded regions represent dates of NBER recessions, which were not used in any way in constructing the index, and which were sometimes not reported until two years after the date. Bottom panel: real GDP quarterly growth rates, quoted at an annual rate.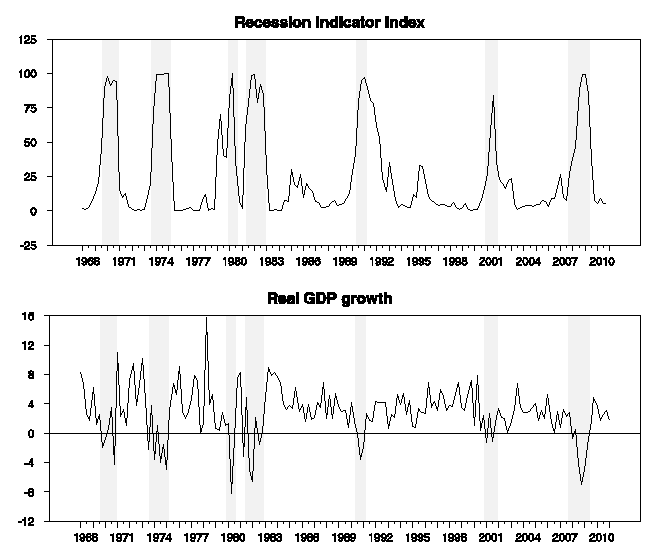 Real consumption spending increased at a 2.7% annual rate during 2011:Q1, contributing 1.9% to the GDP total and essentially accounting for all the economic growth by itself. Bill McBride notes this means that consumption spending must have picked up in March from the slow consumption spending reported in January and February. Consumers are obviously burdened by higher energy prices, but that's not the core problem with GDP at the moment.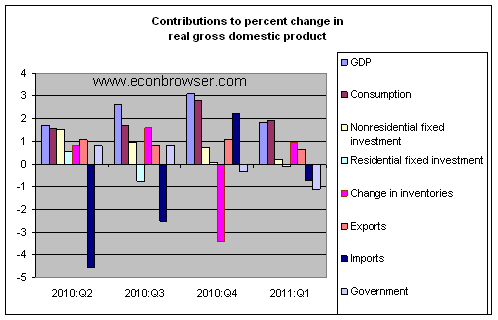 Inventory rebuilding and a gain in exports made positive contributions, but these were essentially undone by increases in imports and decreases in government spending. Perhaps the most disappointing detail was investment spending by businesses, which had been making solid contributions to growth the previous three quarters, but was essentially flat for Q1. Housing remains stuck at very low levels, but at least it's no longer a significant factor dragging the level of GDP down.
But until housing and business investment start making a positive contribution, we're likely to be disappointed by the employment and GDP reports.