If President Obama is looking for ideas that would build American infrastructure, create jobs, and reduce the budget deficit, here's an option to consider.
I commented earlier on the current astonishing geographic differential in the price of crude oil. Producers of Williston sweet in North Dakota are only getting $96 a barrel, while refiners on the coast are paying over $120 for similar oil imported from other countries. That disparity in price is a dramatic market signal that we have a desperate need for better transportation infrastructure, ideally a pipeline running all the way from the Williston Basin to the Gulf Coast, to allow refiners to replace expensive imported oil with cheaper domestic.
Existing Keystone Pipeline and proposed Keystone Gulf Coast Expansion Project.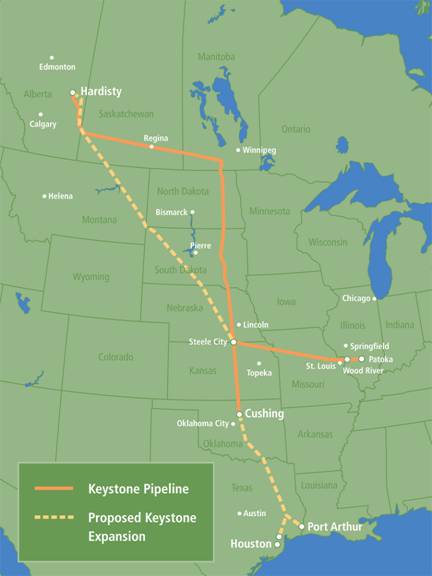 And a company called TransCanada is seeking permission to build exactly what we need. TransCanada has already spent $5 billion on the Keystone Pipeline connecting production from Canadian oil sands to refiners in Oklahoma and Illinois, and wants to spend an additional $7 billion on a proposed Keystone Gulf Coast Expansion, which would expand the capacity and extend the pipeline all the way to the Gulf of Mexico. The company claims the project would "create more than 15,000 high-wage manufacturing jobs and construction jobs in 2011-2012 across the U.S". Perryman Group estimates the direct construction spending would add $9.6 billion to U.S. GDP and produce substantial new tax revenues for local, state, and federal government. There is the additional huge benefit that, at the current geographic oil price differential, the marginal barrel transported would provide a combined gain in economic surplus to producers and consumers of more than $20. Note we're talking about a project that could deliver an additional 500,000 barrels each day to Gulf Coast refiners, or up to $3.6 billion in annual value added that we're currently missing.
Some of that surplus would be captured by Canadian producers in the form of a higher price received for their product. But better transportation infrastructure would also be a tremendous benefit to U.S. consumers, refiners, and any U.S. producers selling into the flow that currently stops in Cushing, Oklahoma. For example, BakkenLink proposes to build a series of connector pipelines for Williston producers to feed into the Keystone expansion, and Montana producers correctly perceive that the Keystone expansion is critical for their future.
Proposed BakkenLink Pipeline.

Why isn't this a no-brainer? A letter signed by 50 members of Congress last June urged the U.S. State Department to turn down the proposed Keystone expansion on the grounds that oil produced from Canadian oil sands has a substantially bigger effect on atmospheric CO2 levels than oil produced from conventional sources. While that is true, it is important to recognize that the current alternative is for the U.S. to pay an ever-increasing sum for the privilege of importing oil from places like Venezuela, Saudi Arabia, Nigeria, and Iraq.
My view is that the geopolitical consequences of the latter pose the greater global risk. I urge President Obama to approve the Keystone expansion.