Incoming data over the last two weeks paint a consistent picture that the U.S. economy, which had been growing at a disappointingly slow rate, has weakened further.
The national income and product accounts updated last week by the BEA suggested that first quarter GDP growth was even weaker than previously indicated. GDP can be calculated in two ways, by summing up data on either what gets produced or the income generated by that production. Conceptually (and by definition) the two numbers should be exactly the same, but in practice you don't come up with quite the same number using different methods. Jeremy Nalewaik has argued that the income-based measure of GDP (referred to as gross domestic income, or GDI) may be a slightly better indicator of business cycle turning points. For example, GDI gave a clearer signal than GDP of a weakening economy in 2007. GDI had been showing a little stronger growth than the GDP indicator in early phase of the current recovery (2009:Q4-2010:Q2), but has been signaling weaker growth than GDP for the most recent quarters (2010:Q3-2011:Q1). The latest BEA numbers report that total U.S. real output was growing at a 1.8% annual rate in 2011:Q1 according to the GDP measure but at only a 1.2% rate according to GDI.
Quarterly growth of real GDP and real GDI, quoted at an annual rate, 2006:Q1-2011:Q1.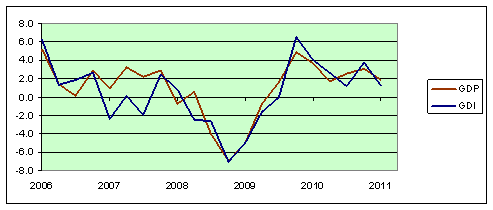 And the second quarter may be starting out even worse. The National Activity Index maintained by the Federal Reserve Bank of Chicago summarizes a variety of monthly economic indicators. This fell to -0.45 based on indicators of where the economy stood in April. Berge and Jorda (2010) suggested that a reading for this index below -0.72 could signal a new economic recession.
Growth of manufacturing, which had been the economy's bright spot, seems to have slowed last month, with the ISM manufacturing PMI falling to 53.5 for May. A value above 50 still indicates that more facilities are reporting expansion than are reporting contraction, but this is a much weaker reading than we've been getting recently.
House prices are falling again, draining consumers' equity and confidence, undermining a potential recovery in residential construction, and potentially threatening new foreclosures.
We've also been getting some troubling new readings on the employment situation. Although new claims for unemployment insurance declined slightly last week, they have been coming in at a higher rate in May than they did in March or April. And yesterday
ADP estimated that the nation only added 38,000 new private-sector jobs based on the payrolls for 23 million employees that it helps process. Tomorrow's employment report from the BLS will be particularly important to watch.
Auto sales also moved down in May. This is a key sector I've been watching for evidence that we might see a replay of what happened in 2008:H1, when high gasoline prices clobbered domestic auto sales and contributed to the initial phase of the economic downturn.
So far, however, I don't believe we're seeing the same pattern. A big decline in sales of domestically manufactured trucks and SUVs led the auto sector down in the spring of 2008, as you can see by comparing the orange and dark blue bars in the graph below. This category was down only 4.5% between May 2010 and May 2011, only slightly more than the 3.9% drop in light vehicle sales overall. One reason is that sales have never come back to the levels of May 2008.
Another thing we saw in 2008 was a flight to more fuel-efficient smaller imported cars. But imported cars also fell 3.5% between May 2010 and May 2011, with the supply disruptions from the Japanese earthquake a possible contributing factor.
Although I don't believe that the recent high gasoline prices have produced the same kind of recessionary impulse that they did in 2008, they're undoubtedly one contributing factor in the recent weakening. Here there's some good news. I predicted on May 8 that we could see U.S. retail gasoline prices fall by 40 cents a gallon. Since then they've come down about 20 cents, and I still think we'll see a further 20-cent drop in the weeks ahead.
So far I'm seeing slower growth, but not a new recession.
---
Update (6/3/2011 at 9:20 a.m.): A reader calls attention to the fact that the Berge-Jorda -0.72 threshold appears to be based on the 3-month moving average of the CFNAI. Although the April CFNAI was -0.45, the 3-month moving average was only -0.12. So the evidence from this indicator is not quite as alarming as the original text above may have suggested.