The Bureau of Economic Analysis reported today that U.S. real GDP grew at an annual rate of 1.3% during the second quarter of 2011, and revised down its estimate of first-quarter growth to an even more anemic 0.4%. We knew the first half of the year was disappointing, but this is even weaker than most of us were anticipating.
Real GDP growth at an annual rate, 1947:Q2-2011:Q2.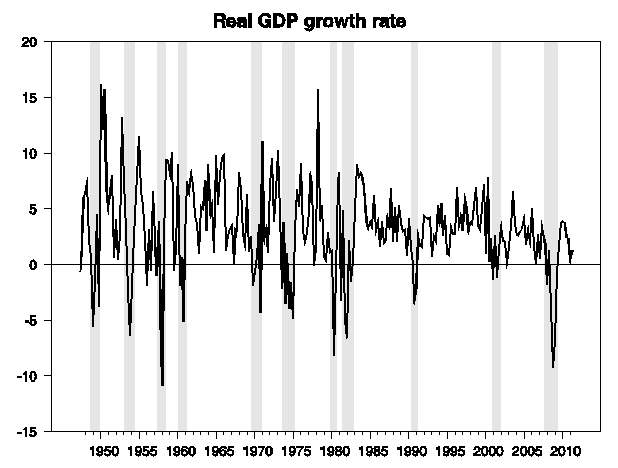 The downward revisions to previous quarters give a picture in which the level of real GDP is still not back up to where it had been before the recession started in 2007:Q4.
The latest numbers boosted our Econbrowser Recession Indicator Index up to 14.4% for 2011:Q1. This is an assessment looking back at the first quarter using today's reported GDP figures, and is based on growth rates rather than levels. Although the growth has been very disappointing, so far it is not looking like a new economic recession.
GDP-based recession indicator index. The plotted value for each date is based solely on information as it would have been publicly available and reported as of one quarter after the indicated date, with 2011:Q1 the last date shown on the graph. Shaded regions represent dates of NBER recessions, which were not used in any way in constructing the index, and which were sometimes not reported until two years after the date.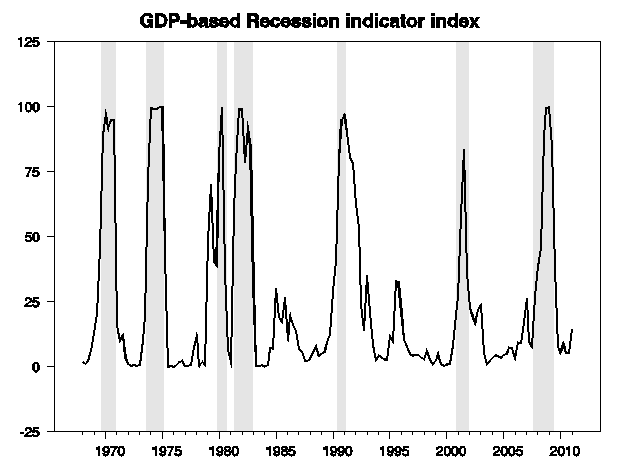 In terms of the individual components of real GDP, downward revisions in consumption spending, inventories, and government spending account for the lower number now given for 2011:Q1 real GDP growth, and such growth as we had in the first quarter could now be attributed entirely to inventory rebuilding. The still-weak second quarter numbers reflect first and foremost a stagnation of consumer spending, led by a drop in consumer durables. State and local government spending cutbacks continue to drag, though in the second quarter these were partially offset by a modest increase at the federal level. Hard to imagine that won't become a negative factor in the quarters ahead. Housing and business fixed investment are also not yet making the contribution necessary in order to get the above-average growth that could get more Americans back to work.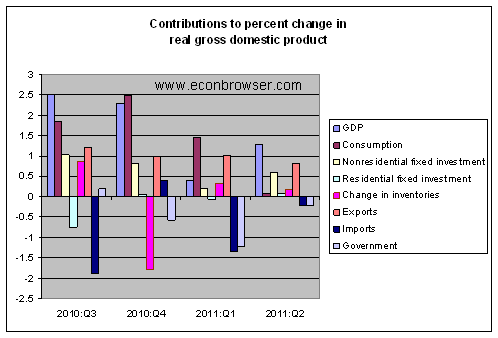 Phil Izzo has his usual invaluable survey of other observers, none of whom manage to put any lipstick on this report, other than the hope (and for many analysts, the expectation) that the second half will be better.