The Bureau of Economic Analysis reported today that U.S. real GDP grew at an annual rate of 2.5% during the third quarter of 2011. That's below the average postwar growth rate of 3.2% and well below the 4.3% growth for an average expansion quarter. Even so, it's better than any of the previous 3 quarters, and better than many analysts had been expecting when the quarter began in July.
Real GDP growth at an annual rate, 1947:Q2-2011:Q3, with dates of U.S. recessions as determined by NBER indicated as shaded regions.

The relatively favorable numbers helped bring the Econbrowser Recession Indicator Index down to 10.3% for 2011:Q2. This is an assessment looking back at the second quarter using today's reported GDP figures, and is based on growth rates rather than levels. Although this has been a disappointing recovery, it has nonetheless been characterized by ongoing growth rather than contraction.
GDP-based recession indicator index. The plotted value for each date is based solely on information as it would have been publicly available and reported as of one quarter after the indicated date, with 2011:Q2 the last date shown on the graph. Shaded regions represent dates of NBER recessions, which were not used in any way in constructing the index, and which were sometimes not reported until two years after the date.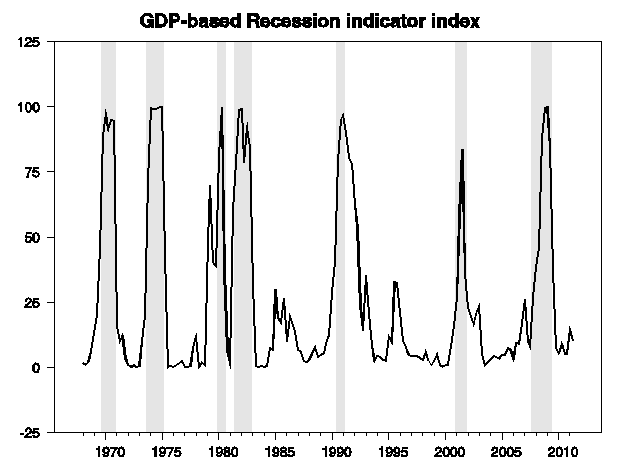 The growth in 2011:Q3 GDP was led by solid consumer spending and encouraging strength in business purchases of equipment and software, with the latter contributing 1.2 percentage points to the 2.5% total all by itself. An investment- and net export-led recovery would be the ideal scenario, if it can continue. Inventory cutbacks subtracted 1.1%, which means that real final sales registered an encouraging 3.6% annual growth rate and suggests that fourth-quarter GDP growth could be better than the third. Housing remains stuck in its own depression, but since there's no quarter-to-quarter change, it's making no contribution, positive or negative, to the observed GDP growth rates. And no, the chart below has not mistakenly omitted the government sector's contribution to third-quarter growth– the slight increase in federal defense spending was exactly offset by cuts in other categories of federal, state, and local spending, for a net contribution from this sector of exactly zero.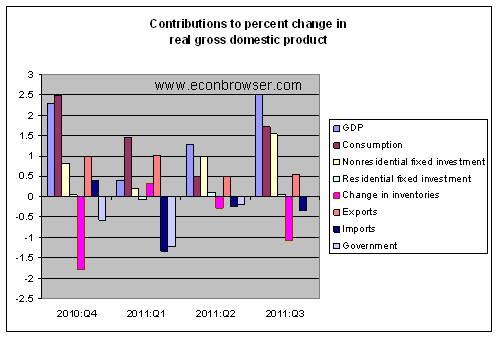 John Silvia of Wells Fargo summed it up nicely:
Modest growth, no recession, still a slow paced recovery but recovery nonetheless.