On Thursday the Federal Reserve announced a series of measures that will come to be referred to as a third round of "quantitative easing," or QE3. Here I review what effects this is intended to have and some of the developments so far.
There are 3 components to the Fed's plan. The first (announced in June) is a commitment to continue through the end of the year the Fed's program to replace its short-term Treasuries with longer-term Treasuries. Second, the Fed plans to purchase an additional $40 B each month in agency mortgage-backed securities (MBS). Between these, this will end up taking $85 B in longer-term securities off the market each month through the end of the year. Moreover, the MBS purchases are open-ended, with the Fed saying they will continue unless the labor market improves:
If the outlook for the labor market does not improve substantially, the Committee will continue its purchases of agency mortgage-backed securities, undertake additional asset purchases, and employ its other policy tools as appropriate until such improvement is achieved in a context of price stability.
Third, the Fed signaled that it intends to keep interest rates at "exceptionally low levels" through 2015. The new measures thus combine large-scale asset purchases (LSAP) with a declaration of its future intentions, a combination that many of us feel is more likely to be effective than either LSAP or pure announcements of future intentions could be on their own.
Note that, since the Treasury has already assumed fiscal responsibility for the MBS issued by Fannie and Freddie, the LSAP in no way changes the total amount that the federal government owes or is committed to pay to anybody. Instead, it simply takes some long-term federal obligations (such as agency MBS or 10-year Treasury securities) off the market, and replaces them with overnight federal obligations (namely bank deposits with the Fed that have now been created). These Fed deposits have not turned into circulating currency, and are not going to turn into circulating currency, but instead are essentially a very short-term debt instrument of the U.S. government. If you view it that way– a simple change in the maturity structure of outstanding federal obligations– you wouldn't think it would be that controversial, nor something that's likely to have huge consequences. That indeed is my view– QE3 shouldn't be that controversial, and we shouldn't expect too much of it.
Before getting into details of its effects, let me first review what I think QE3 is intended and able to accomplish. Japan has spent two decades living with deflation and very low inflation. This caused the problems associated with their debt overhang to last much longer than necessary. Moreover, the principal reason people might be concerned about trying to get more monetary stimulus is that it could cause too much inflation. In the case of Japan, it is overwhelmingly clear this should never have been the main concern.
Actual path (solid line) of output gap, inflation, and interest rate, and simulated counterfactual path (dashes) for Japan,1990-2006. Source: Daniel Leigh (2010).

The U.S. has also recently been experiencing inflation below 2%, whether measured by the PCE deflator, CPI, or the Billion Prices Project.
Year-over-year percent change in the implicit price deflator for personal consumption spending, 1990:M1 – 2012:M7. Data source: FRED.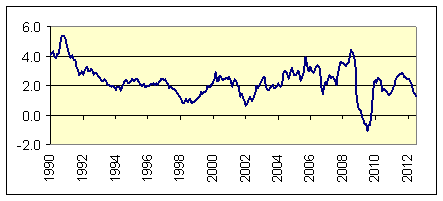 U.S. annual inflation rate as measured by CPI (blue) and prices sampled directly from internet listings (red). Source: Billion Prices Project.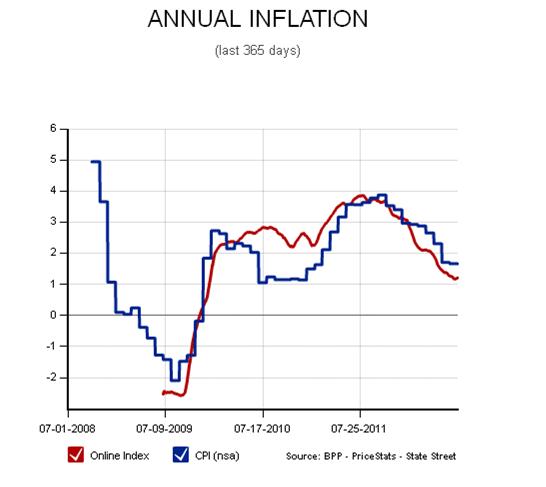 I would judge QE3 to be a success if it resulted in lower real interest rates and higher expectations of inflation, both of which would slightly encourage additional spending today. What effects from QE3 do we see in the data so far? Thursday's Fed announcement was anticipated by many of us, with some analysts concluding that Fed Chair Ben Bernanke's speech at Jackson Hole on August 31 made it pretty clear something like this was coming. Since August 31, the 5-year TIPS yield (a rough immediate measure of an expected real interest rate) has fallen 31 basis points, while the 5-year nominal Treasury (which can be thought of as the real rate plus an expected inflation rate) is up 13 basis points. Together these could be read as an increase in expected inflation over the next 5 years of 44 basis points relative to where it had been on August 31.
The ten-year TIPS yield is down 6 basis points, nominal up 32, for a 38-point implied change in the 10-year break-even inflation rate.
Yield on 10-year nominal Treasury security and 10-year Treasury Inflation Protected Security, Jan 3, 2012 to Sep 14, 2012.


Here's a longer-term graph of those break-even inflation rates.
Top panel: yield on 5-year nominal Treasury Security minus yield on 5-year TIPS, Jan 2, 2003 to Sep 14, 2012. Bottom panel: spread on 10-year securities.


Dollar commodity prices are up significantly since August.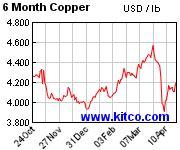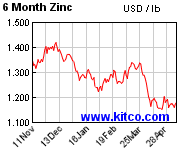 Can the Fed's announcement really do all that? There were similar initial moves following QE1 and QE2, which later were reversed as the market realized that no, this really wasn't going to turn the U.S. into another Zimbabwe.

Bernanke himself seems to have pretty modest expectations:
The policies that we have undertaken have had real benefits for the economy that they have provided some support, that they have eased financial conditions and helped reduce unemployment. All that being said, monetary policy as I've said many times is not panacea, it is not by itself able to solve these problems. We are looking for policymakers in other areas to do their part. We will do our part and we will try to make sure that unemployment moves in the right direction but we can't solve this problem by ourselves.
That's my view as well. I think the correct interpretation of QE3 is that the Fed has unambiguously signaled that it's not going to re-run the Japanese experiment to see what happens when the central bank stands by and watches wages and prices fall even while unemployment remains very high. The Fed can and will keep U.S. inflation from falling much below 2%, and that may help a little. Investors should expect that, and not a whole lot more.