That's the same title I used to summarize the U.S. 2012:Q2 GDP report released back in July. Doesn't look like there's much need to use any different headline for the 2012:Q3 numbers released on Friday.
On Friday the BEA reported that U.S. real GDP grew at a 2.0% annual rate during the third quarter. That compares with an average growth rate of 3.4% over 1947:Q2-2007:Q3, and an average growth rate of 4.4% if you leave out those quarters in which the economy was in recession. But the latest number is about on par with what we've come to expect during the most recent expansion; the average annual GDP growth rate since 2009:Q3 has been 2.1%.
Real GDP growth at an annual rate, 1947:Q2-2012:Q3.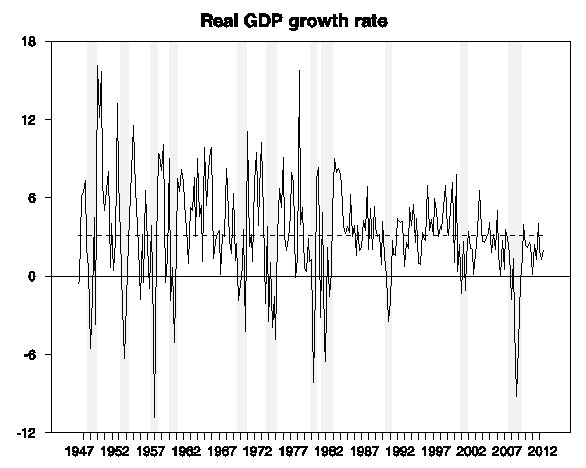 Nor was there much encouragement to be found in the details underlying the GDP aggregate. Residential investment has finally begun to make a positive contribution, adding 0.3% by itself to that 2.0% total growth, while autos contributed another 0.2%. Strong growth in housing and autos is where we would hope to look for any post-recession bounce back. The good news is that housing should continue to make positive contributions in the year ahead.
The biggest boost to third quarter growth came from federal military spending, which all by itself added 0.64 percentage points to the 2.0% total growth. Possibly this represented spending in
anticipation of sequestration
to come, in which case it could be more than matched by a corresponding negative entry this quarter or next. Nonresidential fixed investment subtracted 0.1%– not a huge drag, but a very worrisome development.
The ongoing sluggishness of the growth has been causing the
Econbrowser Recession Indicator Index to drift up, and it now stands at 7.9%. For purposes of calculating this number, we allow one quarter for data revision and trend recognition, so the latest value, although it uses today's released GDP numbers, is actually an assessment of where the economy was as of the end of the second quarter of 2012. The index would have to rise above 67% before our algorithm would declare that the U.S. had entered a new recession.
GDP-based recession indicator index. The plotted value for each date is based solely on information as it would have been publicly available and reported as of one quarter after the indicated date, with 2012:Q2 the last date shown on the graph. Shaded regions represent dates of NBER recessions, which were not used in any way in constructing the index, and which were sometimes not reported until two years after the date.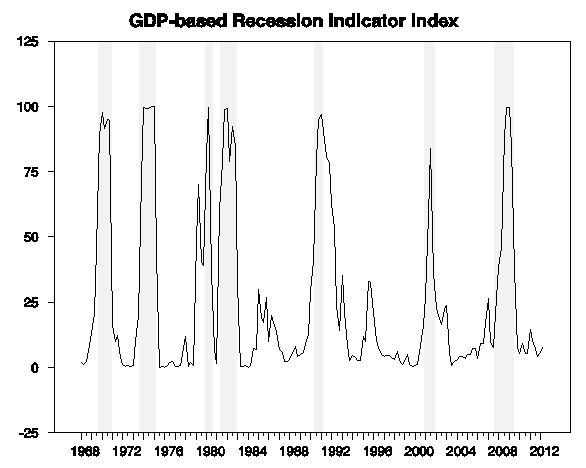 Like I say– another discouraging GDP report.