As more facts come out about Chinese oil demand, the more fascinating the picture becomes.
I earlier admitted to being puzzled by the conflicting statistics and forecasts coming out of China. Chief among the questions here are: (1) how could Chinese oil demand have grown 17% in 2004 despite a 35% increase in the price of crude oil; (2) how could this demand growth suddenly be reduced to a 1.4% growth rate in the first half of 2005 despite real output growth continuing at 9.5%; and (3) what do these trends imply is going to happen to Chinese oil demand over the next year?
The Oil Drum notes this account from Petroleum World that connects the dots in a way that makes a great deal of sense:
The picture that emerges from careful reading of the IEA reports over many months is of a country that is heavily subsidizing huge growth in demand for oil to feed the insatiable Chinese economy — and this has led the IEA to some surprising figures in the August report.

The IEA estimates that at the beginning of July suppliers to the Chinese domestic market were losing 20 dollars per barrel or more on every barrel of gasoil supplied.
One finds the following explanation of China's pricing system from the People's Daily Online:
Based on the weighted average price of oil product in the three markets in Singapore, Rotterdam and New York, the wholesale and retail price of China's oil products are determined and published by the State Development and Reform Commission according to the domestic market.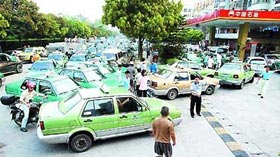 Whatever that means, it doesn't sound like supply equals demand, and the remarkable
photo at the right (hat tip: the Oil Drum) doesn't much look like supply equals demand. The picture shows taxi drivers queued up to try to get gas in Guangzhou, the capital of South China's Guangdong Province. The official story is that these shortages were the result of typhoons disrupting oil tanker deliveries, but it is surely symptomatic of some much more fundamental problems with the pricing mechanism in China.
Other reports of rationing and losses by China's petroleum refiners reinforce Petroleum World's inference.
None of this sounds to me like an economy that is capable of sustaining 10% growth in real output. Either users will be forced to pay the real cost of fuel, or economic growth will come to a grinding halt. Either way, this does not look like a country whose petroleum demand can continue to grow at anything like the rates that we have seen over the last two years.