World oil production increased 4.2% during 2004, leading many analysts to conclude that demand increases, not supply disruptions, were the story behind last year's rise in oil prices. As data for 2005 become available, I'm forced to conclude that the reason that oil prices have continued to surge above their values from 2004 is not further increases in demand, but rather concerns about the ability of supply to increase significantly above the 2004 levels.
A demand-led oil price increase should be partly self-correcting, owing to the difference between the short-run and long-run demand for oil schedules. As the stock of equipment and vehicles adjusts to the new higher prices, that should cause the short-run demand schedule to shift partially back to the left, relieving some of the pressure on prices.
Petroleum consumption from the OECD countries, which accounted for 60% of world petroleum use in 2004, fell slightly in the first quarter of 2005 compared with the fourth quarter of 2004. By comparison, OECD consumption had increased between the fourth and first quarters of each of the preceding four years, on average by 0.4 mbd. OECD petroleum consumption in April fell an additional 1.9 mbd relative to March, which puts the April 2005 consumption 0.1 mbd below the value of April 2004.
The Energy Information Administration also reported that global oil consumption fell 0.1 mbd in the first quarter of 2005 compared with the fourth quarter of 2004. This breaks down as a 0.3 mbd increase from China, a 0.3 mbd decrease in the United States, and a 0.1 mbd decline from the rest of the world. This global consumption decline coincided with a 0.1 mbd increase in global production between 2004:IV and 2005:I. Taken at face value, the difference between global production and global consumption growth would imply either a build-up of inventories or less inventory drawdown during the first quarter of this year, though it could also reflect inaccuracies in either or both of the underlying statistics.
There's also this interesting news from the EIA's August 24 This Week in Petroleum.
Over the most recent 4-week period, crude oil inputs to refineries (refinery runs) are down over 300,000 barrels per day from the same period a year ago. This, while crude oil imports over the same 4-week period are up over 300,000 barrels per day from year-ago levels! It appears that refiners are importing crude oil, but putting it in inventories rather than running it through their refineries at rates that might be expected.
The purchase of oil in order to add it to inventory is of course another factor that props up current oil demand, and, insofar as it is being done in anticipation of earning a profit, one could claim that speculation has been an important factor driving oil prices up this year. Speculation at a time like this of course has the effect of driving high oil prices even higher, which leads many people to think of speculation as a destabilizing force. It would indeed be destabilizing if those inventories later get sold off when the price of oil is lower, because the additional sales out of inventories when prices are low would drive prices even lower. However, this is hardly a prescription for making a profit, for, if it works out as just described, the speculators bought when the price was high and sold when the price was low, meaning they lost money on every barrel they sold.
BP Thunder Horse in mid July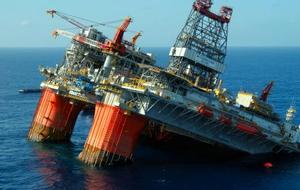 Insofar as speculation is a factor in the current market, those adding the oil to inventory must hope that, although they are buying the oil at a high price, they will be able to sell it at an even higher price. The oil futures market has consistently reflected the belief this summer that over the near term, oil prices would head even higher. In part this belief could derive from concerns about whether productive capacity will be sufficient to meet the usual surge in fourth-quarter world petroleum usage. More fundamentally, given the present lack of excess capacity, the market is unusually vulnerable to disruption from political events, or, in what may be a very dramatic development when oil markets open tomorrow, hurricanes in the Gulf of Mexico. That gives oil storage a strong upside potential with limited downside risk.
Speculators in this market were hoping to buy high and sell even higher. Although their purchases drove up the price of oil in the first half of 2005, if that stored oil is then sold in the second half of 2005 when it's needed even more, the price spikes associated with events of the type just mentioned will be lessened. Profit-maximizing speculation is stabilizing and helps society cope with supply problems. Profit-losing speculation is destabilizing and makes the problems worse. Because I have faith that speculators are trying to make money rather than lose money, I see such speculation as overall a very constructive and important element of how we manage these problems. Speculation in the first half of 2005 was a useful signal that our problems were more serious than many of us had realized, and helped initiate the necessary responses of both supply and demand to those problems.
But why couldn't we count on additional production capacity rather than inventories to help cope with such events? One school of thought points to the $2 billion decline in global spending on oil exploration that followed the oil price collapse of 1997, along with inadequate investment in refineries needed to process the heavy, sour crude currently available. A second school of thought argues that it is not physically possible to increase production further, not in 2005, nor in 2010.
The fact that oil futures show a declining price path once one gets beyond a year into the future suggests that the market is betting on the first interpretation rather than the second. However, as my readers are ever faithful in calling to my attention, the market could be wrong.